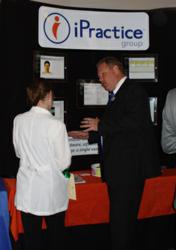 It was refreshing to see how many of the graduating students have come to embrace and advocate EHR.
Nashville, TN (Vocus/PRWEB) April 13, 2011
Members of iPractice Group's sales team attended the 2011 Tennessee Nurses Association Legislative Summit on Tuesday, in an effort to connect with the company's prospective client base. Attended by over 900 nursing professionals and students, the event presented a forum for networking and discussion of how ongoing legislation is changing the field. Governor Bill Haslam was among the notable figures in attendance.
iPractice Group was one of three primary exhibitors that sponsored this year's summit, and the account executives had extensive time to meet with nurse practitioners, nursing students, physician assistants, and university directors of nurse practitioner programs. Attendees came from all corners of the state, and with significant representation from both cities and rural areas.
The event gave the sales team a chance to debut the company's new marketing materials, and gain further perspective on medical providers' concerns with the advent of electronic health records. iPractice Group has developed a solution it fervently believes will resolve such apprehensions.
The account executives found that while a majority of hospital-based nurse practitioners were using some form of EHR, only a minimal number of office-based nurse practitioners had begun the transition to electronic records. An aura of disfavor towards the existing EHR market seemed prevalent, as is typical among the medical community in the early days of a move felt to be revolutionary in the field. However, the younger generation showed that there is optimism for the future of Health IT.
Said Account Executive Marilyn Hayes, "It was refreshing to see how many of the graduating students have come to embrace and advocate EHR."
About iPractice Group:
iPractice Group provides all-inclusive IT services for small group and solo medical practices in the Nashville area and surrounding counties. They have developed a turnkey solution for integrating Electronic Health Record, Practice Management, hardware, service and support, all into a complete package that physicians need to become more efficient, compliant, and profitable. iPractice Group is located at 51 Century Boulevard, Ste 125, Nashville, TN, 37214. For more information on iPractice Group, visit http://www.iPracticeGroup.com.
# # #