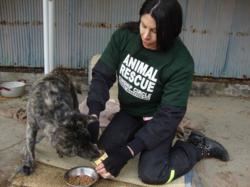 Niigata City, Japan (PRWEB) April 15, 2011
Kinship Circle, a U.S. nonprofit organization that specializes in animal advocacy and disaster rescue, is in Japan to aid animal victims of the earthquake/tsunami disaster. The organization is issuing an urgent plea for donations to sustain daily search-rescue, animal food delivery, and emergency sheltering. Currently based in Niigata, volunteers drive hundreds of miles daily to reach animal victims across northeastern Japan.
Kinship Circle is the first U.S. organization to send ongoing animal aid into remote and hard-hit parts of Fukushima, Miyagi and Iwate Prefectures. The organization is working with Japan Earthquake Animal Rescue And Support (JEARS) — a coalition of local NGOs, including Animal Friends Niigata, Japan Cat Network, and HEART-Tokushima.
"Companion animals shiver outside no-pet evacuation centers — chained, in cars, or kennels. Some are left at partially damaged homes. Their evacuated guardians stop by when they can to feed them. Others are left to fend for themselves," said Brenda Shoss, Kinship Circle Executive Director and Founder.
Volunteers dispense food/supplies across a vast disaster zone. They also track leads for animals trapped at the homes of vacated residents. So far, most calls have led to rescued animals. Kinship Circle asks for public support to maintain its Japan animal aid operation and keep disaster-trained volunteers in the field.
KINSHIP CIRCLE is a nonprofit organization that promotes animal protection and freedom by rallying global voices to seek legislative, industry and societal reforms for animals. Our primary focus is investigative cruelty research and action campaigns to end abusive practices or enforce/enact animal laws. Kinship Circle produces educational materials on over 50 topics for use in humane education settings, student projects, presentations, letters/articles.
KINSHIP CIRCLE ANIMAL DISASTER AID is our specialized faction that deploys emergency aid for animal victims of natural and human-caused disasters. Our responders reflect a wide range of training and certification: Search and rescue, veterinary care, crisis sheltering, fire and water rescue, large animal and technical rescue, wildlife rehab. In recent years, Kinship Circle has helped animals in: Brazil Floods-Mudslides, Chile Earthquake-Tsunami, Gulf Oil Disaster, Haiti Quake, Iowa Floods, Hurricanes Gustav and Ike, Hurricanes Katrina and Rita.
News & Photos About Animal Disaster Rescue in Japan
Support Animal Disaster Rescue & Relief in Japan
Media Contact:
Patricia Jones
Patricia(at)Pjonesinc(dot)com
# # #