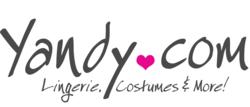 With this new mobile option, customers can 'Be Sexy' at the ease of their fingertips.
Phoenix, Ariz. (Vocus/PRWEB) April 14, 2011
Yandy.com, renowned sexy-wear purveyor of the latest in lingerie, costumes and more, has made shopping even more convenient for customers with the launch of the companies new mobile device formatted website, http://m.yandy.com/.
The launch of the new Yandy.com mobile site, allows customers to order directly from any Android powered cell phone, Blackberry or iPhone. Formatted to work hand in hand with these specific devices, the new mobile site offers all of the conveniences of a smart phone with features like touch screen technology.
"Our hope is to continue our reputation of offering our customers a fast and simple online shopping experience," says Chad Horstman, Yandy's CEO. "With this new mobile option, customers can 'Be Sexy' at the ease of their fingertips."
Yandy has always been accessible through a standard smart phone. However, with the creation of the new mobile phone specific website, customers will find that it is now specifically optimized for today's smart phones, while keeping all of the non mobile sites functionality. The need to scroll left to right and zoom has been eliminated making navigation and viewing products much easier.
Alongside the sleek look and more high tech formatting, the new mobile site also offers the same, easy-to-navigate layout Yandy is known for. Customers visiting the site using one of these devices are automatically re-directed to the new Yandy mobile site. For those customers who preferred the previous formatting, they also have the option to switch back with ease.
Yandy plans to continually update and upgrade the new mobile site as new features and options become available.
About Yandy.com
E-commerce is on the rise and Yandy.com is one of the largest online retailers of lingerie, sexy Halloween costumes, swimwear and clothing on the web. Founded in 2003, Yandy is an online retailer of lingerie, costumes, swimwear, clothing and more with more than 6,500 products always in stock at easily affordable prices. Yandy ensures every costumer will receive a safe, secure and private online shopping experience and is backed by COMODO online security and Google Checkout. Yandy is dedicated to customer service and only sells what is in stock which allows for quick, same day shipping. Offering the highest quality products at the most affordable prices in the market, Yandy has become a leader in ecommerce on the web. Yandy works closely with all of the manufacturers they distribute for and hand select all of the items on the Web site to ensure customers have the largest and most diverse collection to choose from. In addition, the customer service team at Yandy goes unmatched. With attentive and helpful operators, should a question or problem arise, the customer service team is always willing and able to assist. At Yandy, every customer can Be Sexy.
# # #