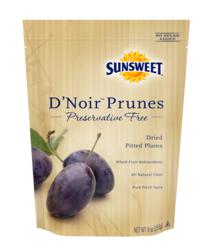 Yuba City, Calif. (PRWEB) April 14, 2011
After nearly 100 years of working hand-in-hand with nature, Sunsweet introduces a true plum masterpiece – D'Noir Prunes. This fresh, juicy and delicious prune has prune lovers (and previous non-prune lovers) calling it the best-tasting prune ever. So if you think a prune is a prune, try D'Noir to taste the difference!
From the crop of plums grown in their California orchards, Sunsweet growers carefully nurture select plums to full maturity so that they meet the D'Noir standards. These are packed moist, tender and pure – without preservatives – to give D'Noir Prunes an amazingly fresh and natural taste with all the super fruit nutrition goodness from all Sunsweet prunes.
D'Noir Prunes have whole fruit antioxidants that play a role in disease prevention and may slow the aging process, all natural fiber that promotes healthy digestion and helps keep hunger at bay, and all natural potassium that improves heart health and increases energy levels. This powerful combination of nutritional benefits is why prunes are often considered the most super of the super fruits.
Not only are D'Noir Prunes good for you, but they also taste delicious and are easy to enjoy any time of the day. Simply drop D'Noir Prunes into yogurt, mix them with a handful of almonds, top a bowl of vanilla ice cream with D'Noir Prunes, or indulge with D'Noir Prunes and a bit of rich dark chocolate. D'Noir Prunes easily make any daily meal, snack or dessert D'vine.
"It took us a long time to perfect the process that allows us to make D'Noir Prunes without preservatives," said Dane Lance, chief operating officer, Sunsweet. "But we have high quality standards and are dedicated to making the best tasting and healthiest products for our customers, and that's what makes Sunsweet prunes number one in the world."
The new D'Noir Prunes and other Sunsweet products are sold at most grocery, drug and club store retailers, or at http://www.sunsweet.com. Also visit us at http://www.SunsweetDnoir.com or on Facebook (http://www.facebook.com/SunsweetGrowers) to see what others have to say about D'Noir Prunes. We think you won't be able to stop talking about it once you try them!
About SUNSWEET
Headquartered in Yuba City, Calif., Sunsweet Growers, Inc. is one of the world's largest handlers of dried fruits including dried plums, apricots, cranberries and raisins. A grower-owned marketing cooperative, Sunsweet provides one-third of the world's dried plums. The Sunsweet brand is widely recognized as representing products that promote a healthy lifestyle for today's consumer.
# # #