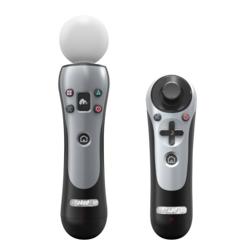 With new product for the PS3, new green packaging and much more, we look forward to showcasing our company and product at E3"
Glendale, CA (Vocus/PRWEB) April 15, 2011
Each year E3, the most important trade show in the gaming industry, takes place at the Los Angeles Convention Center, and this year the Sunflex team will be in LA to introduce the world to their latest snakebyte branded products for the North American, European and Australian markets.
Amongst others, the following products, some of them for the very first time, are being introduced to the public at E3:

snakebyte Mov-Con and Nav-Con
The first 100%-compatible third party controllers for Move games for the PS3 will be available as a set and in various colors.
snakebyte RE:VOLT Power Station
The clever charging dock for all PS3 Move controllers does not just charge, it also offers unique features like the multi-tap mode, additional USB ports and charging ports for PS3 controllers.
This universal remote control is the only device on the market that offers Bluetooth as well as IR connectivity; the PS3 and up to 6 additional hi-fi components can be controlled via IR and without dongles.
"Last year we announced our entry into the marketplace at E3 to some very positive feedback" said Sunflex USA President Howard Borenstein. "This year we look forward to showcasing just some exciting new product that we're bringing to market this year and look forward to the trade's response to some new and unique SKUs"
You can find both the Sunflex Europe and USA teams at booth # 5744; they're looking forward to your visit, as is the new Snake Lady!
To schedule your appointment, please contact us:
Press Contact USA
Mitch Perliss
Phone 818.536.7428 x 1031
Fax 818.536.7484
Email mitch(at)sunflex-usa(dot)com
Press Contact Europe & Australia
Heiko Poppen
Friedmann Kommunikation
Phone +49.221.7787.284
Fax +49.221.5348.083
Email poppen(at)fr-k(dot)de
###