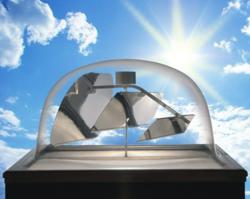 Los Angeles, CA (PRWEB) April 14, 2011
Ciralight Global Inc. will be exhibiting its Smart Skylights for the first time at Go Green Expo's 2011 conference held this weekend, April 15, 16 and 17, at the Los Angeles Convention Center in Los Angeles, CA.
CEO of the Los Angeles based Ciralight Global, Jeff Brain said "The opportunity to present our Energy Saving Smart Skylights for the first time in our own City and at this show which is focused on sustainability and innovative green products is exciting for our products and our planet's future."
The event will showcase eco-friendly goods and services ranging for Business, Electronics, Energy Conservation, Health & Beauty, Transportation, Home & Building, and more. Scheduled guest speakers include Ed Begley Jr. (Actor, Environmentalist), Mariel Hemmingway (Actor, Author, Humanitarian), Paul Watson (co-founder of Greenpeace, Activist), Eric Corey Freed (Principal of organicARCHITECT), plus many more.
Admittance to Go Green Expo is free on Friday 10a-5p for B2B only, and open Saturday 10a-6p and Sunday 10a-5p to the public for $15.
Los Angeles Mayor Antonio Villaraigosa recently announced at a press conference that Ciralight Global's Smart Skylights are part of the City's long term plan to retrofit every city building with energy saving, sustainable technologies.
Ciralight Global's Smart Skylights are a renewable Solar-Powered lighting solution that is in use at many of the nation's largest retailers, businesses, and school districts including: Whole Foods, IKEA, Boeing, Johnson and Johnson, Emerson, LG, Frito Lay, Los Angeles Unified School District, Los Angeles Community College District, Staples, Office Depot, Sky Harbor Airport (Phoenix, AZ), and the US Navy.
Ciralight Smart Skylights are more effective and offer greater energy savings than other renewable products such as Solar Panels and Wind Turbines. Ciralight Smart Skylights are less costly, offer a shorter payback period and a higher return on investment than other options.
Research has shown that the installation of Smart Skylights immediately creates significant utility savings, reduces the impact on natural resources, provides human health benefits, and enable buildings to achieve higher LEED Certification. The inclusion of daylighting into buildings has been found to result in faster learning rates by students, higher sales in retail stores, increased job satisfaction and improved production in the workplace, and speedier recovery by health care patients.1
About Ciralight Global
Ciralight Global, Inc. headquartered in Corona, California, developed their energy saving Smart SkylightsTM to bring natural daylighting indoors using their patented GPS technology and mirrors that track the sun. Smart SkylightsTM allow users to shut off their electric lights for up to 10 hours a day during the daylight hours. Unlike traditional skylights, Smart Skylights are designed with heat traps that provide abundant natural light without the heat that results from traditional passive skylights. The result is a FREE natural source of light, which will save energy, lower utility bills, improve customer and employee satisfaction while enhancing performance in schools, factories and businesses that use the system. With the worldwide movement toward a greener planet, Ciralight Global, Inc. is moving forward to make Solar Daylighting a construction industry staple and help millions of people experience healthier, energy saving lighting naturally. Ciralight Global, Inc. is the recognized leader in the active daylighting revolution.
Forward-Looking Statements: Any statements contained in this press release that refer to future events or other non-historical matters are forward-looking statements. Ciralight Global, Inc. disclaims any intent or obligation to update any forward-looking statements. These forward-looking statements are based on the reasonable expectations of Ciralight Global, Inc. as of the date of this press release and are subject to risks and uncertainties that could cause actual results to differ materially from current expectations. The information discussed in this release is subject to various risks and uncertainties, results of operations or financial condition, national and international government regulations and the risks associated with doing business across borders and territories, and such other risks and uncertainties as detailed from time to time in Ciralight Global, Inc.'s public filings with the U.S. Securities and Exchange Commission.
Ciralight Global Inc.
15303 Ventura Blvd, 9th Floor
Sherman Oaks, CA 91423
(877) 520-5005
###