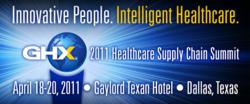 Mechanicsburg, PA (Vocus/PRWEB) April 15, 2011
Client Solution Architects LLC announced today they will be attending and speaking at the GHX 2011 Healthcare Supply Chain Summit in Dallas, Texas. GHX, who organizes and conducts this event, connects through its leading edge technology, 3,900 healthcare providers to more than 350 manufacturer and distributor divisions. GHX has the largest footprint in healthcare supply chain automation. The summit is being held from April 18th - 20th at the Gaylord Texan Hotel in Dallas Texas and is the largest event in healthcare focused on the entire supply chain. The event brings hundreds of healthcare leaders from hospitals and medical surgical suppliers across North American and Europe to address a range of critical issues facing the healthcare industry. The three-day event will explore the future of healthcare and how supply chain solutions can significantly reduce costs while improving patient outcomes. The 2011 Summit will feature a slate of well-known speakers including Senators Tom Daschle and Bill Frist as well as panel discussions on a variety of topics facing the healthcare industry today. To view the complete agenda for the healthcare supply chain summit or to register, visit http://www.ghx.com. Prior involvement or participation in GHX is not necessary to attend the summit.
On Tuesday April 19th at the summit, CSA will be presenting at a breakout session entitled "From Tactical Transaction to Strategic Partner – Using Processes and Analytics to Get Closer To Your Customers". The session is designed to present how suppliers and providers can use analytic methods such as forecasting, optimization, modeling and simulation and collaboration to foster a profitable business partnership focused on driving process efficiencies which ultimately meet the needs of patients. Presenting from CSA will be Jay Heroux, Director of Client Development and Kent Michaelis, Director of Operations.
"Over the past year, we have seen a dramatic increase in the level of interest from the healthcare industry to how analytics and leading supply chain practices from other industries can be leveraged to drive significant process efficiencies. Our breakout session will touch on how lessons learned from other industries can be applied to the healthcare industry in order to drive down costs while still improving the overall level of support provided by the supply chain. We are very pleased to be given the opportunity to present what we believe are some innovative approaches to addressing some of the real world issues facing the healthcare industry and would like to thank GHX for taking the leadership role in addressing what has become one of our Country's biggest concerns", said Jay Heroux of CSA.
CSA's expertise in predicative analytics, modeling and simulation, RFID, Lean Six Sigma, inventory management and optimization and transportation planning and optimization as well as ERP and supply chain management technologies all have application to the health care industry. This includes suppliers, distributors, manufacturers and hospitals.
About CSA
CSA is a professional services firm providing strategic guidance and operational performance solutions to government and commercial clients. CSA helps clients achieve their goals by enhancing organizational performance and maximizing return on investments. The firm helps clients plan and execute processes associated with Project and Portfolio Management, Acquisition and Program Management, Contracts Management, Business and Financial Management, Logistics and Supply Chain Optimization and Business Improvement and Analytics Services. The firm delivers services by combining deep process expertise with strong program management disciplines, analytics and a focus on performance results. For more information visit CSA at http://www.csaassociates.com
About GHX
Global Healthcare Exchange, LLC (GHX) makes healthcare more efficient by delivering software and services that enable both healthcare providers and suppliers to increase efficiency, lower costs and deliver better patient care. With the largest footprint in healthcare supply chain management, GHX connects more than 80 percent of licensed hospital beds at U.S. hospitals, as well as providers in Canada and Europe, with the suppliers from which they purchase the majority of their medical-surgical supplies. GHX is transforming today's linear healthcare supply chain into the industry's only healthcare supply cloud, providing 360-degree visibility into areas affecting both clinical and financial performance. Working with GHX, organizations can improve business processes, automate supply chain systems and work together in a collaborative environment to solve the tough challenges facing healthcare today. GHX is owned by members of the healthcare industry, including Abbott Exchange, Inc.; AmerisourceBergen Corp.; Baxter Healthcare Corp.; B. Braun Medical Inc.; BD; Boston Scientific Corp.; Cardinal Health, Inc.; Covidien; C.R. Bard, Inc.; Thermo Fisher Scientific Inc.; GE Healthcare; HCA; Johnson & Johnson Health Care Systems Inc.; McKesson Corp.; Medtronic USA, Inc.; Owens & Minor; Premier, Inc.; Siemens; University HealthSystem Consortium; and VHA Inc. For more information, visit http://www.ghx.com
###