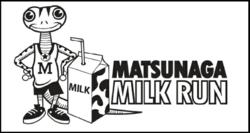 The Matsunaga Milk Run is our capstone PTA event for our participation in Michelle Obama's Let's Move Initiative.
Germantown, MD (PRWEB) April 15, 2011
The PTA at Spark M. Matsunaga Elementary School in Germantown, MD is pleased to announce the first annual Matsunaga Milk Run and Health Fair, an event inspired by First Lady Michelle Obama's Let's Move initiative. The event is scheduled for May 13, 2011 from 5pm to 8pm at the historic King Barn Dairy MOOseum.
The Matsunaga Milk Run and Health fair will feature several fitness awareness activities including half-mile and one-mile fun runs for participating students. There will be mini sessions for Yoga, Zumba and Karate and Cheerleading demonstrations. Other patrons of the health fair include Children's National Hospital of Washington DC to provide blood pressure screenings and health information.
"The Matsunaga Milk Run is our capstone PTA event for our participation in Michelle Obama's Let's Move Initiative." states Holly Zook, PTA President for Matsuanga Elementary School, "The MES PTA theme for this year is a focus on childhood nutrition and physical activity. We are proud of our impact on over 1,000 elementary students and their families and successfully completing two sessions of the PALA program - we call 'Geckos on the Go.'
The official sponsor for the event is RibbonConnect. RibbonConnect is a cause-driven social network that allows individuals, businesses and non-profit organizations, such as Parent Teacher Associations, to share information, interact with supporters and build awareness by promoting activities across multiple high-profile social networks such as Facebook and Twitter. Organizations and their supporters can come together and collaborate for the common good. "We are pleased to sponsor the Matsunaga Milk Run and Health Fair this year." stated Rich Roldan, co-founder of RibbonConnect. "Our children attend Matsunaga and have been involved in this year's fitness awareness activities. It's an important initiative and exactly the type of activity that can benefit from the promotional opportunities that RibbonConnect offers."
Other event sponsors include Trumpet Marketing Group, Kohl's as part of Kohl's Cares foundation, South Mountain Creamery, Dr. Bob DDS, TK Sports, Bar-T, Dr. Sheehan Orthodontics, Fleet Feet, King Barn Dairy MOOseum, Montgomery County Parks, Kicks Karate, Fearless All Stars, Whole Food, Vet Planet, Stiles Dentistry and more!
About the King Barn Dairy MOOseum
The King Barn Dairy MOOseum is a dairy heritage museum dedicated to interpreting the rich history of the farms, the families, and related organizations and businesses of Montgomery County, Maryland. The MOOseum features a permanent collection of interactive exhibits and educational programs.
"This year, we begin a new chapter in our unique relationship with the MOOseum." says Mr. Philip D'Agnese, second grade teacher and spokesperson for the MOOseum. "The dairy barn and the MOOseum make an excellent backdrop for the Matsunaga Milk Run encouraging healthy habits, while highlighting the importance of the dairy cow in Montgomery County's rural past."
About Matsunaga Elementary School
Matsunaga Elementary School, Montgomery County, Maryland, the largest elementary school in the county with over 1,000 elementary students. 2001. Matsunaga Elementary School opened in 2001 and is celebrating its 10 year anniversary - a Decade of Excellence! The school is administered by Mrs. Judy Brubaker, this year's recipient of the 2011 Washington Post, Distinguished Educational Leadership Award. She tells us, "ours is a school community where there is a team approach to learning. It's all about the students, staff and families. There is a commitment to fostering a total learning experience for children. Academics, Arts, Attitude - they all play an important role in developing the whole child. Our PTA and families enhance the life learning experiences for our community by sponsoring activities such as the Matsunaga Milk Run for all to enjoy and participate in!"
###