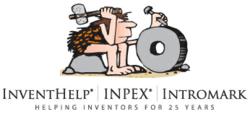 Pittsburgh, PA (PRWEB) April 15, 2011
InventHelp®, America's largest inventor service company, announces that one of its clients, an inventor from New York, has designed a frame-style device that would facilitate the collection of raked leaves for disposal. This invention is patented.
The "EZ Leaf Bagger" could ease the task of transferring raked leaves into a leaf bag. The ergonomic design could eliminate the need to bend over, which avoids strain. The EZ Leaf Bagger features would be easy to use, thus saving time and effort.
The EZ Leaf Bagger would consist of a rectangular, plastic device that would feature a frame with a looped handle at the top. A tab would be located at each corner of the frame. Support beams that extend from the bottom middle of the back side would also be included with the unit. A user would stretch the open end of a leaf bag over the frame and tabs. The tabs would ensure that the bag doesn't slip off of the frame. After placing the frame in an appropriate area, a user would rake or sweep leaves into the bag. When the task is complete, the user could flip the frame upward, and then detach the bag for tying. Variations of the EZ Leaf Bagger could include different sizes, colors and plastics, as well as a telescopic version.
InventHelp® is attempting to submit the invention to companies for review. If substantial interest is expressed, the company will attempt to negotiate for a sale or royalties for the inventor. For more information, telephone Dept. 09-LGI-852 at (800) 851-6030.
# # #