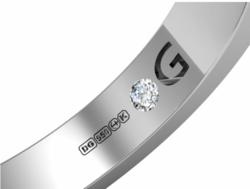 700 years of even handed consumer protection could be brought to an abrupt end
(PRWEB UK) 16 April 2011
Leading UK fine Diamond Designer and online retailer DiamondGeezer.com is one of the first U.K jewellery manufacturing companies to rush to defend Hallmarking as a legal requirement. This legal requirement is once again under scrutiny and threat in the UK Government's current drive to reduce regulation was launched on 7th April under the banner of 'The Red Tape challenge'.
Currently all items sold as gold, silver, platinum or palladium in the UK must be hallmarked, unless they are very lightweight, regardless of where they are made. Hallmarking is the independent, impartial testing of each and every piece of precious metal jewellery, which has to be carried out at one of the 4 assay offices in the U.K. DiamondGeezer.com believes it is imperative to the British consumer for the current and future UK Jewellery Industry to maintain hallmarking as a statutory independent service.
Hallmarking has survived for over 700 years because it genuinely protects the UK public from being cheated. The precious metals market is an asymmetric market where the industry knows a lot and the consumer very little, making them vulnerable to deception. Asymmetric markets must be regulated. 700 years of even handed consumer protection could be brought to an abrupt end, not because people don't want it, but by default, because it is seen as 'red tape'.
With 85% of jewellery sold in the UK now being imported from countries with no properly regulated hallmarking regime, and where counterfeiting is rife, UK consumers need a strong Hallmarking regime to protect them from dishonest activity more than ever .
DiamondGeezer.com urges everyone to visit http://www.redtapechallenge.cabinetoffice.gov.uk/hallmarking and express their views NOW.
# # #