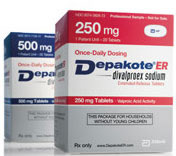 Victims of alleged Depakote birth defects can seek help with costly medical expenses for children born with defects that may be associated with use of the anticonvulsant during pregnancy
(Vocus/PRWEB) April 14, 2011
The Consumer Justice Foundation (CJF) reports on issues concerning the health and safety of the American people and how it is affected by big business and pharmacueticals. As reports such as the FDA release titled "Birth Defects Related to Depakote and Similar Drugs" surface, the CJF works to bring this information further into light for the American consumer in order to protect the welfare of our children.
Depakote is one of the most widely used anticonvulsant drugs on the market, prescribed to individuals suffering from epilepsy, migraine headaches and bipolar disorder. Unfortunately, according to a report entitled "The Teratogenicity of Anticonvulsant Drugs" done by the New England Journal of Medicine and the Food and Drug Administration report "Birth Defects Related to Depakote and Similar Drugs" (Dec 2009, fda.gov) there may be a connection between Depakote use and the development of significant birth defects among infants exposed to the drug during pregnancy. Some of these alleged Depakote birth defects may cause long-term complications for an affected child, sometimes requiring lifelong medical attention and multiple reconstructive surgeries. While physically and emotionally, a birth defect diagnosis can put a huge burden on a victim and his family, the financial aspect of treating a birth defect can severely drain a family as well.
With a release of the report by the New England Journal of Medicine on studies conducted seeking to examine the adverse effects of Depakote use during pregnancy ("The Teratogenicity of Anticonvulsant Drugs", New England Journal of Medicine, April 2001) among exposed infants, Depakote lawyers across the country are now reviewing numerous Depakote birth defect claims (St. Clair County Circuit Court Case No. 10-L-651). Among the birth defects possibly associated with the use of Depakote are severe and potentially fatal injuries, including neural tube birth defects like spina bifida. Many of these birth defects require intensive medical treatment and long-term care in order to properly repair or treat the defect. For those birth defects with no cure, extensive medical treatment is often required in order to simply alleviate the individual symptoms associated with the condition.
Depakote is currently manufactured by Abbott Laboratories, and has been on the U.S. market since 1983 when it garnered FDA approval. Depakote has been approved for the treatment of epilepsy, the prevention of migraine headaches, and as a mood stabilizer for individuals suffering from bipolar disorder. According to the Abbott Laboratories Depakote-specific website, Depakote is made up of sodium valproate and valproic acid, and the drug works by affecting certain neurotransmitters in the brain responsible for causing seizure-related episodes. Other brand names drugs containing the same active ingredient as Depakote include Depakote ER, Depakene, Depacon, and Stavzor.
In 2009, the U.S. Food and Drug Administration released a warning ("Birth Defects Related to Depakote and Similar Drugs", Dec 2009, fda.gov) announcement directed towards patients and healthcare professionals regarding the increased risk of birth defects among infants exposed to Depakote during pregnancy. Among the alleged Depakote birth defects were spina bifida, craniofacial defects (malformed face and skill), neural tube birth defects (defects of the brain and spinal cord) and cardiovascular malformations (defects of the heart and blood vessels).
The FDA has labeled Depakote a category D medication, a classification reserved for drugs which positive human evidence has shown have the potential to cause serious harm to a fetus when taken during pregnancy. Unfortunately, this harm can come in the form of physical paralysis, developmental delay, or even death. The medical expenses resulting from birth injury treatment may be extremely costly, depending upon the type and severity of the condition. Women who took Depakote during pregnancy and gave birth to a child with one or more birth defects are encouraged to seek legal guidance from a qualified Depakote lawyer in order to determine the best course of action.
As new Depakote studies are conducted and revealing information regarding potential Depakote birth defects is being released, Depakote lawyers are reviewing birth defect claims across the United States and filing lawsuits to help families of children affected by birth defects (St. Clair County Circuit Court Case No. 10-L-651). By contacting a Depakote attorney and discussing the possibility of financial compensation, victims of alleged Depakote birth defects can seek help with costly medical expenses for children born with defects that may be associated with use of the anticonvulsant during pregnancy.
# # #