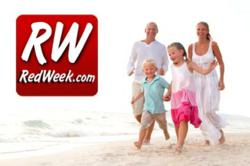 Every savvy traveler should know these top ten tips for finding and negotiating a successful rental deal.
Seattle, WA (Vocus/PRWEB) April 19, 2011
You can't go wrong with renting a timeshare when traveling with friends, children, or simply wanting something more than a standard hotel room. But do you have the knowledge and skill to negotiate a successful timeshare rental deal?
The RedWeek.com timeshare marketplace is a great resource for budget conscious travelers looking for condo-style accommodations. Timeshare owners advertise their unused timeshare weeks for rent on RedWeek.com at rates much lower than renting directly from the resort. RedWeek.com has no middlemen, no commissions and no hidden fees; you deal directly with the individual timeshare owners.
However, every savvy traveler should know these ten tips for finding and negotiating a successful timeshare rental deal.
1. Shop around: Don't settle for the first timeshare rental you see. Take the time to contact several owners – even if they aren't advertising the exact week you want. You may find they can change their reservation with the resort for the week you want.
2. Negotiate: Because you are dealing directly with the timeshare owners and not the resorts, prices are often flexible. Ask if the rate is negotiable, or make an offer less than the asking price.
3. Verify: It is always a good idea to contact the resort directly to verify that the owner you are dealing with actually owns at the resort, and the unit advertised is what the owner has reserved – be sure to ask about the view too.
4. Sign a rental contract/use escrow: The best way to ensure your vacation investment is safe is to use a rental escrow service. However, there is a fee. If you prefer the do-it-yourself method, be sure you have a rental contract in place. RedWeek.com offers a sample timeshare rental contract to its users.
5. Don't pay 100% up front: When dealing with a stranger over the Internet, it is best not to pay 100% of the rental fee up-front. Offer to pay 50% to secure the reservation, and the other 50% when you receive confirmation from the resort that the reservation has been placed in your name.
6. Payment Methods: Never, ever pay by wire transfer as it is a method most often used by scammers. Before making payment, ask yourself if you will have proof of payment, is the payment secure, and what is your liability coverage in case something goes wrong? RedWeek.com has put together a payment method comparison page to help their users determine the payment type that works for them.
7. Confirm your reservation: Don't take the owner's word that the reservation has been placed in your name. Call the resort personally and verify the reservation is in your name and ensure that the owner cannot change the reservation back to his/her name at a later date.
8. Take Your Rental Contract with you: Your rental contract should have all the information you need should a problem arise: the owner's name and contact information, and the resort and unit information.
9. Let others know about your experience: After a successful timeshare rental experience, be sure to add your resort review to the RedWeek.com resort page and also send a letter to the timeshare owner letting him/her know of your experience and that you would be happy to serve as a reference to future renters.
10. Become a RedWeek.com member today. Use their unique Posting Alert function and be notified of new rental weeks as soon as they hit the market.
To learn more about RedWeek.com or timesharing visit http://www.redweek.com.
About RedWeek.com:
RedWeek.com is a member-supported marketplace for timeshare resales, rentals, and exchanges. You can find reviews, ratings, prices, availability and complete resort descriptions for all timeshare resorts to make vacation selection easier.
Boasting an A+ Better Business Bureau rating, RedWeek has more than 1,500,000 registered users and includes 5,000 timeshare resorts worldwide. The site was launched in November 2002.
###