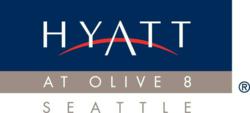 Seattle, WA (PRWEB) April 15, 2011
Join Hyatt at Olive 8, Elaia and Urbane this Earth Day as they celebrate their continued environmental commitment with special offers to promote awareness. While April 22, 2011 is set aside to inspire appreciation for the Earth, Hyatt at Olive 8 participates year-round with its dedication to waste reduction and energy conservation, using 20 percent less electric power and 32 percent less water than similarly sized buildings. Since the groundbreaking opening in 2009 as the city's first and only LEED-certified hotel, Hyatt at Olive 8 continues to be recognized as an industry leader in green initiatives, winning several new awards such as the coveted 4 Green Key rating and top honors in the hospitality category at the Green Washington Awards.
"We take our commitment to sustainability very seriously, ensuring that all entities of the hotel effectively minimize their environmental impact without sacrificing the comfort of our guests," said Steve Vissotzky, General Manager of Hyatt at Olive 8. "Earth Day is a great opportunity to celebrate recent achievements and our continued leadership in green innovation."
Hyatt welcomes guests to experience its uncompromised luxury with a special Earth Day package, valid throughout the month of April. The promotion includes deluxe accommodations and a walkabout with Seattle Urbane Adventures. The walking tour explores landmarks such as the Space Needle, Pike Place Market and Olympic Sculpture Park while detailing the city's rich history from a local naturalist guide. Starting at $214, the package can be booked through the online offer code: ERTHGN. The hotel will also be rewarding stewards of the Earth with a 'Greenest Fan' contest running throughout the month of April. Fans on facebook can enter themselves or nominate a friend by describing what they do to reduce their carbon footprint. The winner will be selected and notified on Earth Day, receiving an overnight stay, breakfast for two at Urbane and a $25 metro card. To enter, visit: http://on.fb.me/Olive8GreenestFan
Known for creating seasonal menus that focus on local purveyors and showcase Pacific Northwest cuisine, Urbane employs a farm-to-table approach in its daily operations. Rising to the challenge this Earth Day, Urbane will serve a "100 Mile Promise" menu, decreasing its typical 250-mile sourcing radius. With a cocktail party setting, Chef de Cuisine Dan Gilmore will prepare four dishes sourced from within the pledged range and paired with innovative cocktails. For $20, the savory menu includes Lamb Meatballs with Holmquist Hazelnut Sauce, Rosemary Smoked Mussels with Foraged Mushroom Duxelle and other bites alongside the latest sprits from local distilleries. Reserve a ticket by calling (206) 676-4600.
As a Hyatt Pure Spa, Elaia employs an elevated commitment to eco-friendly practices, using local ingredients for its seasonally-inspired treatments. Taking a natural approach to luxury, Elaia invites guests to unwind and connect with the surrounding environment this Earth Day with a special promotion. Throughout the week, April 19 – 22, Elaia will offer any spa service at 25 percent off the regular price to guests who bring in a plastic or glass recyclable item (excludes packages). With numerous spa amenities available before or after treatments, guests are encouraged to enjoy the quiet ambiance of the relaxation lounge or take a dip in the 65-foot saline pool. For a full menu of services and to book treatments, visit http://www.elaiaspa.com or call (206) 676-4500.
###