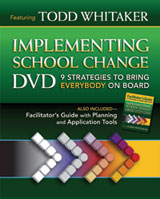 Whitaker takes leadership groups and individuals through concrete steps to implement change with faculty support, now and in the future.
Larchmont, NY (PRWEB) April 19, 2011
Drawing from experiences on both sides of the spectrum, leading presenter Todd Whitaker has created the Implementing School Change DVD: 9 Strategies to Bring Everybody on Board, published by Eye On Education.
Currently, the education system is experiencing budget cuts and policy reforms, among other issues. Running a successful school in spite of these hurdles is difficult. The DVD presents a complete action plan for leaders trying to implement positive changes in their schools or districts by uniting faculty, staff, and the community.
In the past, Whitaker has served as a math teacher, basketball coach, middle, junior high, and high school principal, and a middle school coordinator in charge of staffing, curriculum, and technology for the opening of new middle schools, so he knows what it is like to be both the school leader pushing for change and a part of that person's staff. Whitaker affirms, "Implementing School Change is a step-by-step guide that shows how you implement any change you want to make and get everybody on board!"
The Implementing School Change DVD is specifically geared towards principals, assistant principals, district superintendents, and other school leaders who want to change their organizations for the better. Whitaker takes leadership groups and individuals through concrete steps to implement change in their school or district with increased faculty support, both now and in the future. The author puts forth nine strategies to identify the change, make sure the first exposure is great, determine who matters most, find the entry points, reduce the resistance, harness the power of emotion, look past buy-in to action, reinforce changed behaviors, and fit it all together.
The accompanying Facilitator's Guide with Planning and Application Tools includes a Step-by-Step Action Plan to act as a guide for educators using the DVD in graduate classes and in-service workshops and on leadership and school improvement teams. The two hour presentation by Whitaker in the DVD is based on his bestselling book, Leading School Change: 9 Strategies to Bring Everybody on Board.
How can Todd Whitaker help school leaders without actually being in the room and fielding questions about the specific and unique challenges that face individual schools and districts? "Viewers will identify with the classrooms and faculty meetings described by Todd Whitaker in this video and you will recognize the people he portrays," says Eye On Education President Robert Sickles. "The advice Todd Whitaker offers in this video will help you implement change in your school."
Whitaker is currently a professor of educational leadership at Indiana State University. He is devoted to researching and studying effective teachers and principals and is an expert on staff motivation, teacher leadership, and principal effectiveness.
About Eye On Education
Founded in 1992, Eye On Education is an independent and innovative provider of books and other resources for teachers, principals, and administrators. Its mission is to provide busy educators with practical information on professional development, educational leadership, school improvement, student assessment, data analysis, teaching skills, and other related topics.
###