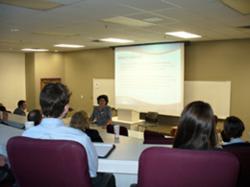 Nashville, TN (Vocus/PRWEB) April 14, 2011
Adding another chapter to its ongoing Employer-in-Residence partnership with Belmont University, iPractice Group spoke to the school's faculty and students Tuesday night about the company's organizational culture.
The informational and networking event, held at Belmont's Massey School of Business, allowed graduate students and alumni to connect with company employees, submit resumes, and ask questions about iPractice Group (iPG) and the healthcare industry in general.
Dr. Yvonne Catino, the company's Director of Human Capital and Organizational Development, facilitated the event with an overview of iPG and its work environment. She addressed the qualities the company looks for in its employees, as well as why those qualities are important, and how they support the vision and mission of iPractice Group. Afterwards, company officials were able to network with the many students and professors in attendance.
About iPractice Group:
iPractice Group provides all-inclusive IT services for smaller group and solo medical practices in the Nashville area and surrounding counties. They have developed a turnkey solution for integrating Electronic Health Records, Practice Management software, hardware, service and support, all into a complete package that physicians need to become more efficient, compliant, and profitable. iPractice Group is located at 51 Century Boulevard, Ste 125, Nashville, TN, 37214. For more information on iPractice Group, visit http://www.iPracticeGroup.com.
About Belmont University:
Ranked in the Top 5 in the Regional Universities South category and named for the third year in a row as one of the top "Schools to Watch" by U.S. News & World Report, Belmont University is a fast-growing community of more than 5,900 students who come from every state and 25 countries. Committed to being a leader among teaching universities, Belmont brings together the best of liberal arts and professional education in a Christian community of learning and service. The university's purpose is to help students explore their passions and develop their talents to meet the world's needs. With more than 75 areas of study, 20 master's programs and three doctoral degrees, there is no limit to the ways Belmont University can expand an individual's horizon. For more information, visit http://www.belmont.edu.
###