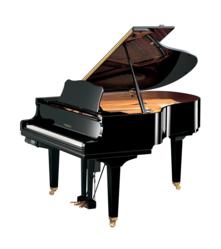 Washington D.C. (Vocus/PRWEB) April 14, 2011
WHERE: Hotel Sofitel Lafayette Square
806 15th St NW, Washington D.C.
WHEN: 5:15 pm-6:00 pm on Thursday, April 14th
Join Intel(R) and Yamaha for a remarkable demonstration showcasing the world's most advanced networked entertainment technology: Yamaha Remote Live. This unique display will feature live, transcontinental piano performances, collaborations and lessons featuring top musicians, academics and students who will connect via several Internet-connected Yamaha Disklavier pianos in two different time zones.
"At last year's Visionary Conference, Yamaha demonstrated one piano connected to another piano," said Disklavier Marketing Manager Jim Levesque. "This year, in line with the conference theme 'Creativity and Innovation,' Yamaha and Intel will join forces to demonstrate a new, 'one-to-many' application that will drive creative emotion and intellectual collaboration."
Added Yamaha Product Specialist Craig Knudsen, "This year, we're also adding name artists like Mike Garson, the fine faculty and students from CalArts and the ability to broadcast to multiple locations in high-resolution video and audio, combined with actual moving keys and pedals of a Disklavier... all perfectly synchronized. It stands to be an amazing event."
A range of talented pianists will showcase this innovative music technology. David Bowie and Smashing Pumpkins keyboardist Mike Garson, pianist, composer and California Institute of the Arts (CalArts) Jazz program director David Roitstein and Cal Arts graduate student and up and coming pianist Cathlene Pineda. The event will be hosted and moderated by Yamaha Product Specialist Craig Knudsen.
Roitstein and Pineda will play live at CalArts' Wild Beast Music pavilion in Valencia, California on an Internet Connected Disklavier performance-reproducing piano. The piano will be connected to a second Disklavier, which will re-create their performances, note-for-note in real time, live onstage at the Intel Visionary Conference. The instrument's pedals and keys will move up and down in sync with the original performance, complete with all of the sophisticated nuances and phrasing of the original. Demonstrations will include remote performance, songwriting collaboration and education applications.
"The ability for a pianist to play the piano and have the keys move simultaneously in another time zone represents a world-changing advance in music technology, and opens up boundless possibilities for music education and performance," commented Levesque. "For the second year in a row, Intel is presenting music and Yamaha technology, which provides the killer app to help transform online learning - and the way people think about it."
"The application of this technology to the field of music education and represents a paradigm shift in the way that musicians may learn and practice, says Eileen Lento, Government and Education strategist for Intel. "It enables remote music learning/teaching without sacrificing teaching quality, and in fact enhances that quality because it enables the student to be taught by a teacher who, although geographically not available, is the best match for that student - and vice versa."
Continued Lento, "the educational ramifications of this technology are truly amazing and can help dispel common perceptions of online learning as a dry consumption model of teaching and learning. The interactive demonstration represents a dynamic and intimate online learning experience where the learner can go far beyond the technical - exploring the nuances of each technique under the tutelage of maestros from around the world - all enabled by online learning."
Given the tremendous consumer demand for Netflix, AppleTV, Roku and similar streaming applications, Yamaha's pioneering Remote Live technology similarly provides an exciting, historic, networked, Internet-ready entertainment experience.
Learn more at disklavier.com.
Lisa Cesarano
Giles Communications
914-798-7134
lcesarano(at)giles(dot)com
# # #