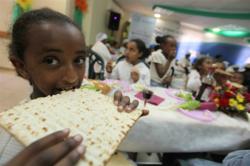 For these [needy] men and women, being able to purchase the special foods needed to observe Passover is out of the question.
Chicago, IL and Jerusalem (Vocus/PRWEB) April 14, 2011
Passover begins at sunset on April 18 and continues until nightfall on April 25. It is celebrated by Jews all over the world to commemorate God's protection of the Israelites before leading them out of bondage in Egypt. It is a time eagerly anticipated by Jewish families who for 3,000 years have been celebrating this festival marking their deliverance.
Unfortunately, in Israel today one in three children lives below the poverty line, and there are thousands more families in the former Soviet Union who are in desperate need with no resources to celebrate the Passover holiday. Many are elderly Holocaust survivors living in shocking poverty who have no family and are barely getting by on social security.
"For these men and women, being able to purchase the special foods needed to observe Passover is out of the question," Rabbi Eckstein said. "In fact, many must make heart-rending choices every day between buying food or medicine, paying the rent, or keeping themselves warm."
The IFCJ and its partner organizations in Israel and the former Soviet Union are distributing a total of about 40,000 food boxes with nutritious foods for the traditional Seder meal, plus basic food essentials. IFCJ programs such as this that offer food, shelter, and education to the needy are provided year-round and are supported primarily by Christians in the United States and Canada.
About one-third of the distribution will go to Jewish homes in Israel where the IFCJ, with Colel Chabad, Yad B'Yad, and Latet, is delivering 11,000 food boxes in Jerusalem and other cities where the need is greatest. Also, the IFCJ is giving out 1,518 food boxes to elderly Holocaust survivors in Jerusalem, Tel Aviv, and ten other towns and regions across Israel. The boxes include fresh produce, matzah, canned food, salt, sugar, matzah flour, mayonnaise, wine, and juice.
To help isolated and needy Jews in the former Soviet Union, the remaining two-thirds of the distribution, or approximately 28,000 food boxes, are being delivered before Passover with the help of partners Chamah and the Federation of Jewish Communities (FJCIS). More than half (15,000 packages) are being given to poverty-stricken families in Moscow alone. The boxes contain kosher products, including matzah and grape juice for the Seder, plus vegetables, beans, potato flour, and other food staples.
"Enabling needy families and individuals all across Israel, and in places like Ukraine and Russia, to properly observe the Passover is another huge witness of Christian love on the part of our supporters," Rabbi Eckstein said.
First Seder in Israel for Ethiopian Jews
In addition to the food distribution project, the IFCJ, together with the Jewish Agency for Israel, is providing a Seder meal to 5,500 Ethiopian immigrants in sixteen absorption centers throughout Israel where they live while learning the language, Israeli culture, and job skills.
Eli Cohen, Director General of the Jewish Agency's Department of Aliyah and Absorption, said: "Your generous donation will ensure that all of our Ethiopian immigrant population housed in our absorption centers will have the opportunity to experience the Passover holiday in the most festive, celebratory, and educational way possible."
A Holocaust survivor remembers
At age 85 living in Israel, Miriam* looks back on a time she was strong. It was that strength that kept her alive when as a 16-year-old prisoner at Auschwitz she was given a horrendous job to do: to help build the gas chambers that were used to kill her family members and millions of other Jews.
Escaping death for three years in the concentration camp, Miriam was finally rescued at the end of the war. She returned to her hometown in Czechoslovakia, and although her once vibrant community was now desolate, she married, settled down and helped to rebuild it. Six years ago after her husband died, Miriam fulfilled her dream of making aliyah (immigrating) to Israel. But her social security checks of less than $400 a month barely cover her rent, utilities, medicine and basic food items—and there was nothing left for buying the special kosher foods to observe Passover. This week she received a food box filled with enough supplies for the Passover meal and beyond.
"I arrived at the Nazi concentration camp on the day before Passover, which was the beginning of an experience that shattered my soul," Miriam said. "Knowing that there are Christians and Jews around the world who are now bringing me Passover food is my comfort. God bless you, always."
(* Name changed to protect her privacy.)
The International Fellowship of Christians and Jews (IFCJ), headquartered in Chicago and Jerusalem, was founded in 1983 by Rabbi Yechiel Eckstein for the purpose of building bridges of cooperation and understanding between both faith communities and together supporting Israel and Jews in need throughout the world. To date, the IFCJ has raised two-thirds of a billion dollars to support programs aiding the sick, elderly, orphaned and at-risk populations in Israel, the former Soviet Union, Ethiopia, India, Latin America, and Arab countries. For more information about IFCJ programs and projects, visit http://www.ifcj.org.
Media note: Photos and video footage of food distributions in the former Soviet Union and Israel are available on request by contacting IFCJ Communications at: media(at)ifcj(dot)org or by calling (312) 641-7200.
###