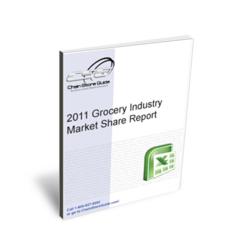 "In order to remain competitive in this market, businesses need to know where their target market is located, and how it behaves" -Carmen Vasquez-Perez
Tampa, FL (PRWEB) April 19, 2011
Chain Store Guide's Grocery Industry Market Share Report is a two-year historical market profile of grocery retailers operating within all 940+ Core Based Statistical Areas.
The report includes market share information on chain and independent supermarkets, mass merchandisers selling grocery products, wholesale clubs as well as dollar stores.
Chain Store Guide, the leader of retail and restaurant data intelligence for 80 years has published a new Grocery Share Market Report in response to the needs of the retail and foodservice industry.
"In order to remain competitive in this market, businesses need to know where their target market is, and how it behaves" said Carmen Vasquez-Perez, Chain Store Guide's Sales and Marketing Director. "Customers want to keep costs low while still having the opportunity to grow their business. They want to stay competitive and cost-conscious. The Grocery Share Market Report allows businesses to magnify their market, without having to exceed their budget."
The release of The Grocery Share Market Report comes as a result of Chain Store Guide's longevity and excellent relationship with the retail and foodservice industry.
The report compliments other product lines in the retail and foodservice industry, online market segments include Grocery and Convenience Stores, Single Unit Supermarkets, Foodservice Distributors, and Wholesale Grocers.
The new Grocery Share Market report can be found on the following website:
http://www.chainstoreguide.com/c-134-grocery-market-share.aspx
About Chain Store Guide
Chain Store Guide researches all major retailers, restaurants, distributors and wholesalers in the United States and Canada with contact information on over 700,000 establishments.
Chain Store Guide provides data in print directory, online web application and customized database formats. Chain Store Guide databases are used by manufacturers, suppliers, service providers, brokers, real estate professionals, retailers, analysts, consultants and other professionals seeking to gain insight into retail and foodservice markets in the U.S. and Canada. Since 1934, Chain Store Guide has been the leading data source for in-depth information on retailers, restaurants, and foodservice operations.
For more information contact us at http://www.ChainStoreGuide.com
###