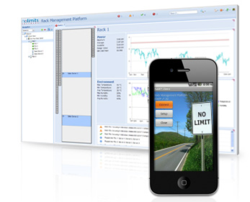 This is an excellent opportunity for colleges and universities to greatly improve their data center management at a very affordable price point.
St. Louis, MO (Vocus/PRWEB) April 18, 2011
No LImits Software announces special pricing for education institutions for the Rack Management Platform (RaMP) data center management solution. RaMP provides automated IT asset management, real-time power and environmental monitoring, change management and detailed server analytics to increase availability while reducing data center operating costs.
"Despite signs of recovery, colleges and universities are still facing tough economic conditions," said Dave Cole, president of No Limits Software. "This is an excellent opportunity for these organizations to greatly improve their data center management at a very affordable price point."
RaMP provides the following features:
Automated Asset Management

100% data accuracy through the automated discovery of detailed device information
Automatically track device location down to the rack unit (including zero-U devices)
Real-time data center auditing for IT asset accounting compliance (Sarbanes-Oxley, CFR-11)
Automated change control to reduce mean time to repair and increase availability
Web services API provides full interaction with other asset and change management systems
Real-Time Monitoring
Power and environmental monitoring down to the device level
Server monitoring to identify servers which should be retired or consolidated
Identify servers which are not using server power management
Real-time redundancy evaluation to reduce shutdown risk due to rack PDU overload on failover
More accurate capacity planning data helps to reduce stranded power and shutdown risks
User Interface Options
Actionable data at your fingertips through fully interactive dashboards
Blackberry, iPad, iPhone and Droid handheld applications put the data into your hands
About No Limits Software
No Limits Software was founded in 2009 by Dave Cole, a recognized industry leader in data center real-time management solutions. The Advantage Group, the previous company he founded, provided solutions for leading companies around the world before being acquired in 2007 by Aperture Technologies (now a division of Emerson Network Power). No Limits Software offers a suite of data center management solutions designed to change the way you manage your data center. For more information, please visit our web site (http://www.nolimitssoftware.com).
###