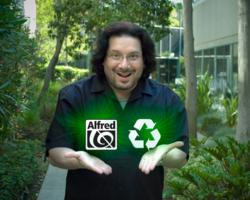 "Even in the most difficult economic times, a company still has a responsibility to protect the environment from waste. We hope that the humble effects of our own changes will inspire other companies to do the same."
-Ron Manus, Alfred CEO
Los Angeles, CA (PRWEB) April 18, 2011
Alfred Music Publishing proudly recognizes Earth Day (April 22nd) by continuing its Alfred Cares initiative, an ever-expanding program that promotes environmental conservation through changes the company has made to save trees, electricity, and water.
In the last 22 months since the program went live, the Alfred Cares initiative has helped the company produce 813 thousand units (comprising over 100 million pages) on 100% recycled paper, amounting to approximately 95% of the books and music it has published during this period. Additionally, over 225 thousand DVDs have been produced with 100% recycled packaging.
Alfred has continued to make an impact within its own operations at various facilities. Last year the company transitioned to a paperless warehouse where the workers now use headsets and speak into a computer when orders arrive, eliminating the need for paper when processing orders for shipment. The warehouse lighting, which was previously comprised of mainly incandescent lighting, is now using energy-efficient fluorescent models, which last longer and use approximately 50% less power. This change saves approximately 140,000 kilowatts annually.
At its corporate headquarters in Los Angeles, Alfred employees regularly take part in recycling paper, batteries, and electronic "e-waste" to be picked up by various recycling companies every month. Though this process generates a small amount of revenue, the company uses it to offer breakfasts for its employees as a reward for taking part in the Alfred Cares initiative and protecting the environment. The offices have also completely switched to water-free urinals, each of which saves approximately 40,000 gallons of water from being used each year.
"Even in the most difficult economic times, a company still has a responsibility to protect the environment from waste," said Ron Manus, Alfred CEO. "We hope that the humble effects of our own changes will inspire other companies to do the same. Collectively, the difference our industry can make for the world is astounding."
For more information on Alfred Music Publishing, visit alfred.com.
ABOUT ALFRED MUSIC PUBLISHING
Alfred Music Publishing is the world's largest educational music publisher. Alfred produces educational, reference, pop & performance materials for teachers, students, professionals & hobbyists spanning every musical instrument, style & difficulty level. Alfred's home office is located in Los Angeles with domestic offices in Miami & New York as well as offices around the world including Australia, Germany, Singapore & the United Kingdom.
Since 1922, Alfred Music Publishing has been dedicated to helping people learn, teach & play music. Alfred currently has over 90,000 active titles. Alfred represents a wide range of well-known publications—from methods like, Alfred's Basic Guitar, Alfred's Basic Piano Library, Premier Piano Course, Sound Innovations & Suzuki, to artists like Led Zeppelin, The Rolling Stones, Bruce Springsteen, Van Halen, Green Day, Michael Jackson, Sheryl Crow, Eagles, Cole Porter & George and Ira Gershwin, to brands like Star Wars, Harry Potter, Lord of The Rings, Rolling Stone Magazine & Billboard.
In addition to its own titles, Alfred distributes products from over 50 companies, including Belwin, Daisy Rock Girl Guitars, Dover Publications, DW Drums, Faber Music, Highland/Etling, Kalmus, National Guitar Workshop, Penguin, TASCAM, Ultimate Support & WEA.
# # #