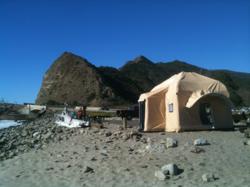 Life Cube is the only emergency shelter with an integrated floor able to provide protection from the elements, water, food, medical assistance, communications support and power instantly
Santa Barbara, CA (PRWEB) April 20, 2011
Life Cube Inc., a leading developer and manufacturer of inflatable and instantly deployable survival shelters, today announced that company officials will demonstrate humanitarian aid applications of the Life Cube at the United Nations Global Platform for Disaster Risk Reduction forum to be held May 8th - 13th 2011 in Geneva, Switzerland. Designed for emergency preparedness, disaster relief and military uses, the Life Cube is the only shelter system available today encased within a cube-shaped shipping container which converts into a hard surface floor, making it ideal for rapid deployment in remote locations and rugged terrain.
The United Nations established the Global Platform for Disaster Reduction in 2007 as a biennial forum with the goal of fostering better communication and coordination efforts in response to disasters and is the world's foremost gathering of risk reduction, recovery and reconstruction experts from government, Non-Government Organizations, academia and the private sector.
"The Life Cube team is looking forward to meeting with representatives from around the world to share the unique life-saving capabilities possible with the various shelter configurations we offer," says Pamela Voge, Life Cube's Director of External Affairs. "Although we've had strong acceptance of the Life Cube here in the United States from organizations as diverse as the Federal Emergency Management Agency (FEMA), the American Red Cross and non-government organizations and defense contractors, our participation in the Geneva event marks the first international exposure of our innovative shelter technology.
Developed by Santa Barbara, Calif. entrepreneur Michael Conner, the military-grade Life Cube is equipped with dual battery-powered fans for immediate inflation and can be assembled by two people and ready for use within five minutes. Mr. Conner says he invented his "shelter in a cube" idea after witnessing the devastation wrought by Hurricane Katrina in New Orleans and the Gulf of Mexico region and the massive Kashmir earthquake in Pakistan, both of which occurred in 2005 and left a wake of death with millions of victims without shelter for weeks or months.
Mr. Conner says that among the characteristics that make Life Cube particularly appealing to both humanitarian aid organizations and the military is that the Life Cube ships fully supplied as an enclosed shelter with 8 foot ceiling clearance for up to five people for five days of food and water without external assistance. Among Life Cube's standard features are a self-sufficient power system, shortwave radio, Global Positioning System, water filtration devices, propane or kerosene cook top, first aid kits, ready-to-eat meals (MREs) and a wide variety of essential survival supplies. Completely U.S. made, each Life Cube is manufactured and assembled entirely in Florida and California and was designed and developed by the firm's Santa Barbara-based team.
"This is the only emergency shelter with an integrated floor, and once it's on the ground, the Life Cube is able to provide protection from the elements, water, food, medical assistance, communications support and power instantly," Mr. Conner explains. "The inflatable components are manufactured by the same company that invented the life raft in 1946 and their products have been used by the United States military since. Equipped with power, light, heat, food and water, it provides all the necessities when time is of the essence."
Immediately following the Life Cube appearance in Geneva, Ms. Voge says the shelter will be tested at a week-long FEMA National Level Exercise drill in Indiana.
"There is a very high risk of a massive earthquake in the near future from the New Madrid Fault and we'll be involved in making Life Cubes available to emergency responders as they practice delivering shelter and aid during a simulation based on the catastrophic 1811 New Madrid earthquake," Ms. Voge explains. "As a former director of the American Red Cross in Santa Barbara with many years of emergency responder and recovery experience, I know how critical it is to get help into the field where people may be injured and exposed to the elements without food, water, heat or shade.
Due to the recent earthquake and tsunami in Japan and last year's Haiti quake, disaster preparedness and fast response capabilities to deliver aid have gained a new urgency among governments and relief organizations worldwide, according to Ms. Voge.
"Not unexpectedly, United Nations disaster risk reduction research has reported that 2010 was one of the worst years in over two decades for natural disasters, leaving some 300,000 people dead and tens of millions without shelter or resources," she comments. "As the benefits of the Life Cube become known to those directly involved in providing solutions to mitigate the effects of natural disasters, we foresee a strong demand for the four different models we offer."
In anticipation of pending orders from several organizations currently evaluating Life Cube, the firm recently finalized a deal with Ryan Technologies, a contract manufacturer, to handle over-capacity production, substantially increasing Life Cube, Inc.'s ability to fulfill large orders in a timely manner. In addition to the upcoming appearance at the Global Platform for Disaster Risk Reduction forum, Ms. Voge adds that several Life Cube distributors and sales representatives plan to demonstrate the shelter systems at various military events and humanitarian aid conferences during the year.
About Life Cube, Inc:
Founded in 2009 and based in Santa Barbara, CA, Life Cube, Inc. is a specialist in rapid deployment shelter technologies. The genesis of the Life Cube system began when entrepreneur Michael Conner witnessed the devastation in 2005 wrought by Hurricane Katrina and a massive earthquake in Pakistan. Watching humanitarian efforts, it became clear to him that a quickly deployable, portable shelter could be enormously helpful in providing life-saving shelter and supporting on-the-ground operations by aid workers. Mr. Conner immediately committed himself to invent an entirely new class of transportable shelter – one that would combine the advantages of a canvas tent, the ruggedness and utility of a trailer, with the speed and expandability of breakthrough inflatable technology. The result is the Life Cube. Today Life Cube, Inc. is a leading designer, manufacturer and distributor of innovative air-beam shelters for a variety of markets and uses.
About the United Nations' Global Platform for Disaster Risk Reduction:
The Global Platform for Disaster Reduction was established by the United Nations in 2007 as a biennial forum for information exchange, discussion of latest development and knowledge and partnership building across sectors, with the goal to improve implementation of disaster risk reduction through better communication and coordination among stakeholders. The Global Platform is managed by the UN International Strategy for Disaster Reduction.
The Global Platform for Disaster Risk Reduction is now the world's foremost gathering of stakeholders committed to reducing disaster risk and building the resilience of communities and nations.
The Third Session of the Global Platform will convene May 8th through 11th 2011and will bring together disaster risk reduction, recovery and reconstruction experts. Over 2,000 policy makers and practitioners, from government, international organizations, NGOs, academia, and the private sector from both developing and developed countries will gather to assess and share information as well as set new directions for the disaster risk reduction imperative, with emphasis on local initiatives and activities. High level participants are expected to attend from among the stakeholders. For further information, visit http://www.preventionweb.net/globalplatform/2011/
Media Contacts:
Life Cube, Inc.
Nick Pedersen
Business Development Manager
Life Cube, Inc.
Mobile: (805) 403-6114
Office: (805) 879-1735
E-mail: nick(at)lifecubeinc(dot)com
Website: http://www.lifecubeinc.com
Global Platform for Disaster Risk Reduction:
Brigitte Leoni, Head of Communications, UNISDR
+41 229178897 (office) / +41 794445262 (mobile) / leonib(at)un(dot)org
David Singh, Senior Communications Officer, UNISDR
+41 229177901 (office) / +41 794444148 (mobile) / singh92(at)un(dot)org
Dizery Salim, Public Information Officer, UNISDR
+41 229178918 (office) / salimd(at)un(dot)org
# # #