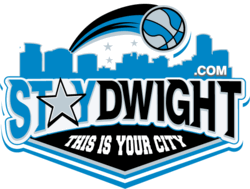 Totka says, we are relying heavy on fans to spread the word through social media outlets such as Facebook, Twitter and YouTube. This is something that wasn't there when Shaq left Orlando years back.
Orlando, Florida (PRWEB) April 15, 2011
Word on the street is that there's a possibility Orlando Magic's power center, Dwight Howard, may consider other options this summer that are rumored to be Los Angeles, New York or Dallas. Loyal Magic fans certainly don't want him to leave, saying it would be bad for the franchise and Central Florida businesses.
Just in time for the NBA playoffs, Orlando-based Internet entrepreneur and die hard Magic fan, Ryan Totka, launched a website campaign, StayDwight.com, which gives fans the opportunity to reach out, speak their mind, and let Dwight Howard know why they want him secured in Orlando.
Howard, a five-time All-Star, four-time All-NBA team selection, three-time All-Defensive member, and two-time Defensive Player of the Year has been ranked consistently as one of the best in the league in rebounds, blocks, field goal percentage and free throw attempts, and has set numerous franchise and league records. He has led the Magic to three division titles and one conference title, was the winner of the 2008 NBA Slam Dunk Contest, and was the starting center for Team USA, which went on to win the gold medal in the 2008 Olympics.
"About a year ago I thought about this concept that when the time comes, it needs a campaign. You need to build your team around a franchise player like Dwight and you can't let him go. You've got to do everything you can to keep him," stated Totka.
On the site you'll find Dwight's biography, highlight videos, message board, Fan videos, a photo gallery, Dwight's Tweet's in real time, and a letter from Totka explaining why Magic fans need the 6 foot 11 center to stay, "To convince him this is the place he needs to be. We can't have what happened years ago when Shaq left and what recently happened in Cleveland with LeBron."
Here's where Magic fans come in, StayDwight.com is interactive and Totka's goal is to get the entire community involved. "Dwight Howard is more than just a player in this community. He's a person that goes to schools, that helps kids and helps our community and our economy." Fans can write messages, submit pictures and even video messages for Howard. A campaign like this allow the city's business owners and fans to come together and do what it takes to keep their superstar. Will Davidson of Maxmedia Outdoor Advertising even donated billboard real estate on the corner of a high traffic area of Orlando, near the University of Central Florida campus.
An autographed Dwight Howard jersey will go to the fan with the best video message and another will be auctioned off for the Orlando Magic Youth Foundation. StayDwight campaign shirts are currently being sold online as well as Mother Falcon Clothing, located in Downtown Orlando at 817 E. Washington St. Orlando, FL 32801.
"At some point, you need to look at your fans and your community and see what's inside your heart and where you should be," and of course, Totka means right here in Orlando, The City Beautiful.
# # #