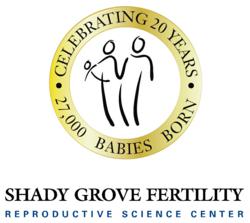 Rockville, Maryland (Vocus/PRWEB) April 15, 2011
Shady Grove Fertility introduces the Multi-Cycle Discount Program to assist In Vitro Fertilization (IVF) patients without insurance benefits overcome the financial burden associated with treatment. The Multi-Cycle Discount Program is an option to consider when statistics indicate it may take more than one IVF cycle to conceive and features over a 40% savings on multiple IVF treatments.
The Multi-Cycle Discount Program is the newest financial program offered by Shady Fertility Center, the country's largest fertility practice. The new Multi-Cycle Discount Program allows patients to pay one flat fee which includes up to two fresh IVF cycles, monitoring, cryopreservation, the first year of cryo embryo storage and unlimited Frozen Embryo Transfers (FETs) -- if embryos meeting Shady Grove Fertility's standard criteria for cryopreservation are available. The Multi-Cycle Discount program is ideal for women planning to use their own eggs but do not qualify for Shady Grove Fertility's Shared Risk 100% Refund Program due to age.
"At Shady Grove Fertility, we understand that the cost of treatment is the number one concern among patients," says Michael Levy, MD, Shady Grove Reproductive Endocrinologist and Co-Founder, "We believe that every couple should have the opportunity to purse their dream of parenthood without money getting in the way and have created a variety of financial programs to meet various patients' needs."
To learn more about financial programs available through Shady Grove Fertility or to schedule an appointment, call 888-761-1967.
About Shady Grove Fertility
Shady Grove Fertility Center is the largest and one of the most progressive fertility and IVF Centers in the United States. Twenty-three reproductive endocrinologists, as well as PhD scientists, geneticist, and 420 highly specialized staff care for patients in 12 full-service offices throughout the Washington and Baltimore metropolitan areas. Shady Grove Fertility conducts clinical research in collaboration with the National Institutes of Health and is part of their subspecialty training Fellowship in Reproductive Endocrinology. Shady Grove Fertility has pioneered a number of nationally and internationally recognized programs, such as Shared Risk 100% Refund Program, Shared Donor Egg, International Donor Egg, and Shared Help, among others. Since Shady Grove Fertility's inception in 1991, more than 27,000 babies have been born. Shady Grove Fertility is a member of the Attain Fertility Network.
# # #