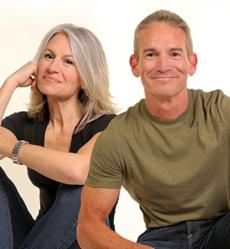 (Vocus/PRWEB) April 18, 2011
Dian Griesel, Ph.D., coauthor with her brother Tom Griesel of the groundbreaking new book TurboCharged: Accelerate Your Fat Burning Metabolism, Get Lean Fast and Leave Diet and Exercise Rules in the Dust (BSH, 2011), has been interviewed by Pat Farnack, host of the Health & Well Being Report on WCBS 880 Radio. The interview will air at 9:23 a.m., 11:23 a.m., 6:23 p.m. and 8:52 p.m. EDT on Monday, April 18 and Tuesday, April 19.
In the interview, Dian discusses how TurboCharged provides a compelling alternative to conventional dieting with a new roadmap to get dieters on the road to eliminate excess body fat fast and forever. The book's promise is that regardless of your age, current percentage of body fat, or scale weight, you can achieve a lean, awe-inspiring body by becoming "TurboCharged™."
To listen to a podcast of the interview, please visit the following link:
http://newyork.cbslocal.com/audio-on-demand/health-and-well-being/
About TurboCharged
According to boomer-generation authors Dian Griesel, Ph.D. and Tom Griesel, every diet to date is destined to deliver loss of lean muscle mass, moodiness, disappointment and failure. Instead, Dian and Tom provide an exciting new roadmap using a unique 8-step program that has been called "the Holy Grail of Fat Loss" and even the "Fountain of Youth." Building on an exotic car metaphor, their system requires no strenuous exercise, supplements or special equipment. They show readers how to get on the road to eliminate excess body fat fast and forever. Within 3 days the program promises to: begin training your body to use excess body fat for energy; show everyday activities that will quickly accelerate fat-loss; teach mini-exercises requiring only 3-5 minutes each day that will trigger fat-burning while strengthening muscle; explain the ideal foods and how to eat them to burn your body fat fast; eliminate any related diet anxiety or moodiness; prove that you are truly getting younger; and, provide easy ways to maintain your new lean and healthy body with minimal effort for life. An excerpt from the Foreword by Fred Pescatore, MD, MPH, CCN, author of The Hamptons Diet says, "TurboCharged doesn't bog down the reader with lots of science. Instead, it tells you what to do, when to do it, and if you follow the very simple guidelines, you too will be dropping fat fast, leaning out and attaining your goal of a lower body-fat percentage, decreases in inches and a younger metabolic age. TurboCharged is a system designed with genetics in mind and based on sound science. With a combination like that, you can't fail." Sister and brother, Dian and Tom Griesel have spent the last 30 years working with renowned scientific researchers while studying health, exercise, longevity and stress management. Both are in their 50s according to the calendar, yet can prove that they are not only leaner and stronger but are now metabolically teenagers as a result of the TurboCharged steps they share with readers. TurboCharged is a simple, practical, easy-to-implement holistic lifestyle program for everyone. Testimonials from 35 to 80 year olds abound! Early readers comment... Harvey Schiller, PhD., Brig. Gen, USAF, Ret, Former CEO, United States Olympic Committee says, "Finally you can toss the exercise DVDs, failed diet programs, useless equipment and take control of your body! TurboCharged is what we've all been waiting for: a simple approach to better living and a powerful new lifestyle." Harvard psychiatrist, Srini Pillay, MD, best-selling author of Life Unlocked says, "For dieters, from both a psychological and medical perspective--this one's the Holy Grail."
About Dian Griesel, Ph.D.
Dian Griesel, Ph.D., 50, is a serial entrepreneur and long recognized health spokesperson. Dian has advised biotechnology, pharmaceutical and high technology companies for over fifteen years via her company The Investor Relations Group, an award winning corporate communications firm. Dian lectures and writes on a variety of subjects. She is a lifetime member of the International Association of Counselors and Therapists as well as the National Guild of Hypnotists. She has served on the Board of the New York Chapter of the American Heart Association. Dian has appeared in thousands of media outlets and in the early 1990s was a regular health expert on the Sally Jessy Raphael Show, Gordon Elliot, Jenny Jones, Montel Williams, Rolanda Watts, Good Day New York and 1010 WINS News. She has worked in private practice and taught continuing education for weight loss and stress management at the NY Open Center and the City University of NY. In the 1980s, Dian was co-partner at Spotlite Marketing, a division of Spotlite Entertainment, where she worked on sponsorship deals for Jay Leno, Jerry Seinfeld, and other top tier acts. Today Dian lives in Connecticut, with her husband and their two young children.
# # #