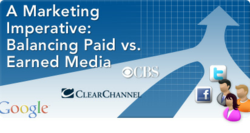 San Carlos, CA (Vocus/PRWEB) April 15, 2011
Marketers looking to more effectively balance Paid vs. Earned Media will get actionable insight from industry analysts and influencers in an exclusive interactive webinar presented by Zuberance on Tuesday, April 19th at 10am PST.
Distinguished Panel
Thought leaders who have written on the subjects of Paid, Owned and Earned Media will lead the panel discussion:

Sean Corcoran, Senior Analyst, Forrester Research, Inc. (@seancor)
David Armano, Senior Vice President, Edelman Digital (@armano)
Rob Fuggetta, Founder & CEO, Zuberance (@robfuggetta)
Moderator: David Spark, Founder, Spark Media Solutions (@dspark)
Practical Tips for Balancing Paid vs. Earned Media
Marketers who fail to drive and leverage earned media may be risking the opportunity to increase brand awareness and reputation. Some new media evangelists, however, will tell you that social media will replace traditional advertising entirely. But the truth is – success for today's marketers is learning how to leverage both.
Attendees will learn:

How to appropriately leverage Earned Media vs. Paid Media
How to gain more Earned Media by tapping into a large segment of your highly satisfied customers (aka Brand Advocates)
How to integrate Earned Media into your existing marketing efforts
How to measure the impact of Earned Media
The webinar is presented by Zuberance, a social media marketing company focused on Brand Advocates.
Register for the Webinar Now
To register, visit http://bit.ly/e5rCXC.
Twitter After-Party
Follow the conversation on Twitter at #PaidvEarned, and join our panel after the Webinar to get direct expert advice and ask any questions not addressed during the live event.
Tell Us About Your Experiences with Paid and Earned Media
We're conducting a brief survey to identify the questions, concerns and strategies marketers are experiencing with balancing Paid and Earned Media. The findings from this survey will be shared on the webinar. To take the survey, go to http://bit.ly/pvesurvey.
Download the Whitepaper
For an in-depth look at how to gain more Earned Media now, download the whitepaper "The Top 5 Reasons Why You Need to Focus on Earned Media" at http://bit.ly/fHJ8rD.
About Zuberance
Zuberance is the leading brand advocacy company. The award-winning Zuberance Advocate Platform makes it easy for marketers to systematically identify and energize Brand Advocates at scale, plus track advocacy results in real-time. Zuberance customers include leading consumer and business brands worldwide. Zuberance's investors include Canaan Partners, Emergence Capital Partners, and Correlation Ventures. Headquartered in San Carlos, CA., Zuberance is a member of the Word of Mouth Marketing Association (WOMMA). For more information, visit http://www.zuberance.com or call 866.967.9746. Follow Zuberance on Twitter at http://www.twitter.com/zuberance, or visit us on Facebook at http://www.facebook.com/zuberance.
###