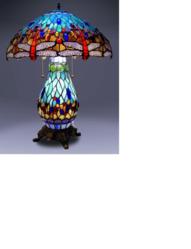 Our experienced marketing and sales team has placed many consumer products through the years with big box retailers like Walmart, CostCo, Target, and other in the U.S. and continues to perform very well with many successes...."
Los Angeles, CA (Vocus/PRWEB) April 18, 2011
ChinaMart® has again successfully placed two more of its clients – 1 World Lamps™ and Twistlets™ into Home Depot and HallMark™ Greetings Stores, both large national USA retail chain stores.
"Our experienced marketing and sales team has placed many consumer products through the years with big box retailers like Walmart, CostCo, Target, and other in the U.S. For many years, Chinese companies have faced business and cultural barriers to entering the U.S. market. Many of the Chinese companies needs are solved by ChinaMart's Global trade platform for conducting business in the USA. For those companies already selling to the U.S. market, China Mart® can help them enter the big box retailers directly instead of going through the typical trading company and importer channels," states Stephen Perl, CEO of China Mart® Los Angeles and CEO of PMF Bancorp.
1 World Lamps™ produces high quality art glass and Tiffany lamps in China and sells them through their USA subsidiary at China Mart® Los Angeles. ChinaMart's marketing team prepared their lamp line very carefully to make a professional presentation acceptable to big box buyer, and after months of work was successful in opening many accounts with most note worthy being Home Depot last month. ChinaMart® placed 1 World Lamps as the vendor of record with Home Depot and is now managing their sales activity as needed.
Another ChinaMart® show cased company, Twistlets™ produces the latest rage in designer jewelry for "Tweens" (children between ages of 9 and 18).... Twistlets™ main showrooms and corporate offices are also located at the China Mart® Los Angeles. ChinaMart's marketing team brought many new wholesale buyers to Twistlets™ along with most notable being HallMark™ Stores in the last month (a national chain in the USA).
For more information on China Mart's marketing team, showroom facility in Los Angeles, and other services such as investment, financing, and immigration. Please feel free to call us at +1-310-410-8888 or email us at: sales(at)chinamartusa(dot)com
About China Mart® Group:
The ChinaMart® Group comprises the entire Offline and Online Platform as follows: the China Mart Group comprises ChinaMart® Los Angeles & Manufacturer.com The Magazine® for Offline sales, and Manufacturer.com & TopTenWholesale.com for the groups Online sales promotion.
China Mart® Los Angeles is an international trade and business platform with head office in Los Angeles (and Offices in Guangzhou, Shenzhen, Hangzhou, QingDao, Hong Kong, and Shanghai) that specializes in providing Chinese companies with a "One Stop" solution to invest and establish their presence in the U.S. Market. China Mart® not only provides a physical location for Offices and Showroom but also a full set of business services through service team of professionals to open the U.S. market for our Clients, promote products through many channels, bring U.S. buyers to the facility, provide Capital Markets Listing Services, Legal/Immigration support, financing for product/trade, housing and school support, and more. China Mart® also has services for U.S. Companies with needs in doing business with China. China Mart® has a program that provides support to U.S. companies that are seeking direct sourcing as well as support to assist in opening export channels to the Chinese market. China Mart® is well established to support such activities based on its business & government relationships and infrastructure its built over the years in China and through its branch network of offices located at the heart of some of China largest wholesale centers.
Manufacturer.com®, the largest manufacturer in the world, helps buyers quickly source products, finding the right suppliers for profitable business transactions. Suppliers can use Manufacturer.com to easily list their companies and will be found by millions of buyers. Importers, exporters, wholesalers, retailers, independents, flea marketers, convenience stores, charities, discounters, auctioneers, drop-shippers and entrepreneurs all use Manufacturer.com to find and establish valuable trade partners.
TopTenWholesale® com, is the leading online wholesale directory and search engine for connecting resellers and buyers of general merchandise in the global and domestic trade directly with wholesalers, manufacturers, distributors, drop-shippers, importers, exporters, and other types of suppliers. Use TopTenWholesale to search from over 100 wholesale product categories, and over 3,000 wholesalers and manufacturers. Find the hottest wholesale products online, including: wholesale jewelry, general merchandise, closeouts, handbags, apparel, gifts, electronics, novelties, toys, and much more. Connect with domestic and global wholesale companies and products today!
About 1st PMF Bancorp:
1st PMF Bancorp™ , as factoring company and bank lender, is a leading privately owned lender specializing in factoring and trade financing with a global platform servicing clients in the US as well as internationally. Since 1985, 1st PMF Bancorp has financed manufacturers and wholesalers globally. PMF has specialties in trade finance of general merchandise products with specialized Letter of Credit financing for US and Chinese companies. PMF has many financial products to support growth domestically and internationally such as full service credit department with credit insurance services, escrow/payment, collection, and other services.
# # #