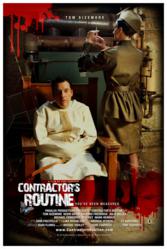 Visually gorgeous and intelligent in the pithy dialogue spoken by the complex characters involved. The work easily vaulted itself to the top of my list. Jared Mobarak, Film Critic
San Francisco, CA (PRWEB) April 17, 2011
Yuri Tsapayev's brilliant and disturbing new film Contractor's Routine delves into territory familiar to any thinking man or woman trying to make sense of the new media age.
Shot in and around San Francisco, its high cinematic values match those of leading Hollywood production companies. And the talented cast includes international film star Tom Sizemore.
Contractor's Routine's story challenges established social truths, then twists them around our perceptions in a disturbingly memorable way. It's also rich with laughs and insights, as:

The protagonist Jacob is quirky, curious, attractive and self-educated.
He takes advice from his alter ego, like we do from social media friends or followers.
His personality disorders are hidden behind his work, lifestyle and social interaction.
His life becomes a series of frustrations and conflicts without a safety net:
◦ art and science,
◦ civility and antisocial behavior,
◦ habit and compulsion,
◦ fantasy and reality
. . . and he uses conventional household appliances in some very unusual ways!
Viewers of Contractor's Routine should prepare themselves for the electric shock of really original angles, perspectives and concepts
The June 3rd 2011 opening of this unique film event at Lumiere Theater is attracting the attention of the Bay Area's leading thinkers and artists. You and every local social media aficionado should be there too. Mind wide open.
Opening theater information:
Lumiere Theatre
1572 California Street
San Francisco, CA 94109
# # #