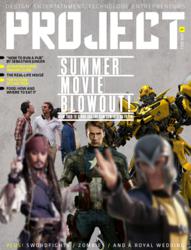 Project magazine has already scored a 14/15 rating and is in the top 1% of apps in iMonitor's Best Publication Apps evaluation, on a par with major publications the Sunday Times and USA TODAY.
London (Vocus/PRWEB) 15 April 2011
Issue 5 of Project, out today, sees the launch of the world's first ever gyroscope iPad magazine cover. The leading iPad magazine, a joint venture by Virgin Digital Publishing and Seven, utilises iPad 2's brand new gyroscope feature to give Project magazine readers an even more entertaining, interactive experience.
Project's Issue 5 'Summer Movie Blowout!' gyroscope cover features characters from 2011's best movies – including Thor, Senna, X-Men and The Hangover Part II.
'Unlike traditional IOS apps, we regularly deliver new interactive content and functionality using the latest HTML5 technology and our cover this month uses the latest iPad 2 gyro hardware to control HTML5 canvas objects. The result is a magazine front-cover packed full of the latest movie characters that readers can explore by moving their iPad around them. Anyone visiting Project HQ this month would have seen the team spinning around and shaking their shiny new iPad 2s in the air to get the orientation just right.'
– Marc Langsman, Project's Head of Development
Always striving to push the boundaries of digital publishing, it's no surprise that Project is regularly featured as one of the App Store's What's Hot apps.
Top of iMonitor's Best Publication Apps evaluation
Launched just last year and only five issues old, Project magazine has already scored a 14/15 rating and is in the top 1% of apps in iMonitor's Best Publication Apps evaluation, on a par with major publications the Sunday Times and USA TODAY.
The McPheters & Company's iMonitor™ service provides a detailed evaluation and global tracking of 1,600+ media-related iPad apps from more than 50 countries. The list represents the best of breed, featuring apps that score in the top 2% of all apps that have been evaluated by iMonitor in the past year.*
Progressive downloads
Project's new progressive download feature in the latest update resolves this – enabling readers to start reading the issue while it is still downloading.
Generation i
Experts in digital and iPad publishing, Seven, the creators of Project, recently released details of the 'Generation i' survey which measures user behaviour on the iPad. Conducted by YouGov, the survey reached a total of 1,007 UK iPad owners, making it one of the first detailed surveys of UK iPad owners' content usage.**
Key findings from the survey, suggest that more than half (51%) of iPad owners who had read magazines both in print and in interactive format on the iPad, preferred the experience on Apple's multimedia device.
The results also suggest that iPad owners are turning their backs on personal computers, as the iPad becomes the go-to gadget for entertainment.
The survey highlights the speed at which the iPad has become a mainstream device for media consumption. In fact, more than 87% of owners use it every day of the week, 26% for half an hour to an hour per day, 32% for 1-2 hours per day, and 24% for more than 2 hours a day.
Results also show that advertising on iPad is seen in a more positive light than magazine advertising. 36% of iPad owners who have read magazines in print and in interactive format on the iPad agree that 'the iPad is the best way for companies to advertise to people like them', (24% disagree). 42% say they are more likely to pay attention to interactive magazine advertising on the iPad than advertising in magazines and newspapers, (31% disagree).
Issue 5 of Project is available in the App Store today.
http://www.projectmag.com
http://www.seven.co.uk
CONTACT AT SEVEN:
Shareena Ali
Seven
Tel: 0207 775 5549
Email: shareena.ali(at)seven(dot)co(dot)uk
FOR PROJECT ADVERTISING OPPORTUNITIES:
Charlie Parker
Seven
Tell: 020 7775 5727
Email: charlie.parker(at)seven(dot)co(dot)uk
CONTACT AT PROJECT:
Sarah Waite
Seven
Tel: 07590 546 911
Email: sarah.waite(at)projectmag(dot)com
ABOUT PROJECT

Project, a collaboration between Seven and Virgin Digital Publishing, is breaking new ground in digital publishing and iPad apps.
Edited by Anthony Noguera, Project is the magazine for the iPad.
It combines the enduring foundations of traditional print media: beautiful aesthetics, authority and agenda-setting editorial with the very best that new media can offer: interactivity, speed, flexibility and a sense of global community.

Project is a monthly, purpose-built, interactive iPad magazine – packed with international culture, entertainment, design, business and travel.
Already available in Apple's App Store in the UK, US, Canada and Australia, Project is already looking to expand into additional tablet platforms and markets. Issues have been downloaded in territories as far and wide as Korea, Brazil, Russia and Saudi Arabia.
Project was the first international native iPad magazine, launched by Sir Richard Branson himself in New York on 30 November 2010.
Within two days of launch, Project was #1 in the App Store globally.
At Apple's recent announcement in San Francisco, Apple had pre-loaded Project onto all the new iPad 2s to showcase their capability.
T3, Virgin America, Audi Becks, Ford and Nissan are the latest brands to advertise in Issue 5 of Project.
URLS:
http://www.projectmag.com
http://www.facebook.com/project
http://www.twitter.com/projectmag
ABOUT SEVEN

Seven is an award-winning, multi-channel strategic content agency.
Experts in creating intelligent, relevant and effective content across multiple channels, including magazines, websites, social media, interactive ezines, video, iPhone and iPad apps.
Clients of Seven include Virgin, Sainsbury's, CIMA, English Heritage, Grant Thornton, Guardian Media Group, Lloyds Banking Group, New Look and Waterstone's.
For further information: http://www.seven.co.uk or contact Shareena Ali.
NOTES TO EDITORS:
*Source: http://mcpheters.com/2011/04/05/imonitor%E2%84%A2-releases-list-of-best-publication-apps/
**All figures, unless otherwise stated, are from YouGov Plc. Total sample size was 1,007 adults. Fieldwork was undertaken bet
# # #