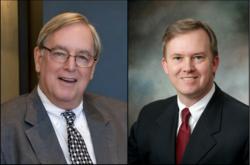 (Vocus/PRWEB) April 18, 2011
Hawkins, Parnell Thackston & Young, LLP, a leading national civil defense law firm, is pleased to announce that Al Parnell and Ed Slaughter have been invited to join the prestigious Counsel on Litigation Management. The Counsel is a nonpartisan alliance comprised of thousands insurance companies, corporations, corporate counsel, litigation and risk managers, claims professionals and attorneys. Through education and collaboration and the organization's goals are to create a common interest in the representation by firms of companies, and to promote and further the highest standards of litigation management in pursuit of client defense. Selected attorneys and law firms are extended membership by invitation only based on nominations from CLM Fellows.
Albert (Al) Parnell has dedicated his career toward preparing, managing, and trying products liability, environmental, and toxic tort cases. A pioneer in toxic tort and products liability litigation, he is widely respected for providing solutions as one of the nation's leading asbestos lawyers. He has served as lead trial counsel in more than 200 asbestos and toxic tort cases in over 30 states. Moreover, his clients have received multiple defense verdicts, the last being a directed verdict after two months of trial in July 2009 in Oakland, California. Al has served as National Counsel for multiple companies in asbestos, chemical, and MDL cases. He has played a major role in the strategy and negotiation of the settlement of thousands of toxic tort suits.
Ed represents corporations and individuals in high risk litigation. Ed has served as lead counsel in trials across the country. Ed has successfully managed dockets of mass tort cases, obtaining thousands of dismissals without payment in the earliest stages of litigation. Ed has also been actively involved in reshaping the Texas litigation landscape through tort reform. He assisted in drafting legislative proposals and testified before the Texas House Civil Practices Committee to close the loophole that allowed thousands of out-of-state claims to be filed in Texas. Ed is also a frequent author and invited speaker on various topics, including legal ethics, alternative fee arrangements and developing efficient models for legal project management and cost control in litigation.
Press Contact
Carol Crocker
National Marketing Director
214.780.5130
###