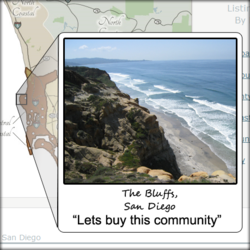 Understanding the intricacies of search engine optimization is taken off the shoulders of members and is simplified by use of the automated IDX platform
Mesa, AZ (PRWEB) April 17, 2011
Real estate professionals in the San Diego, CA, regional area now have access to a new Internet marketing tool for personal branding and to gain online merit as local real estate experts. The release of the community website, http://www.sandiegocommunitysearch.com is expected to draw hundreds of applicants within weeks of the initial launch.
The community real estate directory concept is powered by an enhanced patent-pending search engine optimized content management system, (CMS). The CMS uses local MLS listings to target specific search engine queries and performance is accelerated by social networking efforts and the marketing contributions of all participants.
The end objective of agent participation is to connect with home buyers and to establish listing opportunities by developing a reputation as the hyper local expert in communities which the participant sponsors. Dynamic Page Solutions' real estate technology in conjunction with proprietary training tutorials, videos and webinars makes this possible by educating agents in online marketing and the value of social engagement.
Mark Toppenberg of Dynamic Page Solutions stated, "Understanding the intricacies of search engine optimization is taken off the shoulders of members and is simplified by use of the automated IDX platform." The agent that chooses to represent the neighborhood or community is given pre-optimized web pages that target all potential real estate focused Internet searches relevant to the sponsored geographical setting. Agents have the prospect of capturing search engine traffic for a comprehensive locality. Contributors are not restricted to marketing or representing their own personal listings, nor do they simply have generic branding on a sidebar which distinguishes this technology from other sites that receive real estate listings.
The CMS uses smart algorithmic processes that construct thousands of pathways to real estate for sale on the Internet. The MLS IDX search used by most real estate websites does not allow for listing details to be indexed by the search engines because the information is held in MLS databases. Another area where competing real estate aggregator websites fall short is the inability to theme and organize listings based on real estate features such as homes with pools or custom houses. Dynamic Page Solutions' IDX technology allows search engines to crawl and index every optimized page along with multiple keywords that homebuyers are searching on to find listings in that specific area.
Agent sponsorships are based upon a short contractual agreement with the understanding that social involvement and online marketing is expected to escalate the performance of the site. Dynamic Page Solutions offers this product and concept in an interest to promote real estate activity and to provide educational opportunities to learn new strategies for agents and broker's personal marketing.
Fidelity National Title offers real estate agents access to organized materials and information on which communities would best benefit the agent. Their sales and customer service representatives are able to recommend selected technologies and resources that empower agents. For more information please call (619) 295-7332 or visit http://www.fidelitytitlesd.com.
Agents and brokers that are serious about growing their real estate businesses choose Dynamic Page Solutions as their website and IDX provider because of the ability to win real estate traffic. Located in Mesa, Arizona, Dynamic Page Solutions sells and supports their services nationwide. For more information on IDX solutions and real estate websites visit http://www.dynamicpagesolutions.com or telephone (480) 839-0016.
# # #