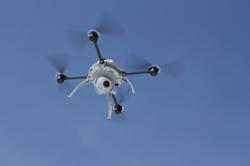 At a mere 200 grams, the VideoZoom10x is the world's lightest all-digital gimballed optical zoom UAV camera.
Waterloo, ON (PRWEB) April 18, 2011
Aeryon Labs is pleased to announce the VideoZoom10x gimballed camera payload for the man-packable Scout Micro UAV (sUAS). Targeted at real-time reconnaissance and identification applications, the VideoZoom10x adds a stabilized ten times optical zoom video capability to the Scout's family of payloads. At a mere 200 grams, the VideoZoom10x is the world's lightest all-digital gimballed optical zoom camera. The VideoZoom10x produces the highest quality real-time video available in any Micro UAV – for example, an operator can determine if someone is holding a gun versus a shovel from a distance of greater than 300 meters.
The Aeryon Scout UAV is a small, lightweight mini-helicopter that is remotely-controlled from the ground using a patent-pending map-based touch-screen computer interface. In keeping with the Scout system's ruggedized design philosophy, the VideoZoom10x is custom designed and manufactured by Aeryon Labs to be light-weight, robust and sealed. The weather-proof enclosure protects the sensitive electronics ensuring the system functions in harsh environments, whether wet or dry, hot or cold, or dusty. With operation up to +50°C, the VideoZoom10x is designed with desert deployments in mind.
The VideoZoom10x has a 2-axis gimbal capable of pointing the camera both horizontally and downwards. A pitch range of 120 degrees and yaw range of 60 degrees with speeds in excess of 150 degrees per second, with the Scout's advanced control system ensures the camera remains on target, quickly compensating for vehicle movement and wind, freeing the operator from these duties – ensuring the focus is on the mission.
The VideoZoom10x camera leverages all the benefits of the Scout's all-digital control and data architecture; providing point-and-click geopointing, encryption and metadata infrastructures. The Scout's all-digital communications network effectively eliminates hacking, snooping and interception of the signal, while at the same time allowing video to be networked and streamed to multiple clients, including handhelds and phones.
Unlike a point and shoot camera, the zoom level of the VideoZoom10x can be controlled dynamically during operation, adjusting from a wide angle field of view (FOV) of 50° to a telephoto FOV of approximately 5°. At full telephoto, the VideoZoom10x is equivalent to an SLR camera with a 425 mm lens with an astonishing aperture of f/2.0 – an SLR equivalent lens would weigh about 12 pounds. This incredible zoom range allows an operator to identify a car from over 1.5 km away and a person from over 300 m. The global shutter architecture of the VideoZoom10x eliminates the problematic rolling shutter artefacts seen on videos from consumer point and shoot cameras and even professional SLRs.
Daylight colour and low-light configurations of the VideoZoom10x are available, with sensitivities as low as 0.1 lux, to enable dusk, dawn and moonlight operations. With an electrically-controlled optical IR-cut filter, the camera is suitable for use with near-infrared illumination, already used by law enforcement around the world.
Visit Aeryon's website for sample videos, camera specifications or more information.
About Aeryon Labs Inc. – http://www.aeryon.com
Aeryon Labs provides robotic solutions to real-world problems through the design and manufacture of best-in-class small unmanned aerial vehicles (UAVs) and related systems. Its flagship product, the Scout, allows police, military and civil users to easily collect real-time aerial intelligence, with a system small enough to fit in a backpack or car trunk. With expertise in robotics, control systems, and digital imaging, the Aeryon team develops state-of-the-art products while remaining focused on end-user ease of use. Aeryon Labs was recently named one of Canada's Top 25 ICT Up and Comers in the Branham Group300 ranking of Canadian Information and Communications Technology (ICT) companies.
# # #