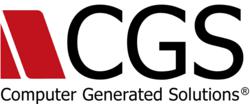 New York, NY (Vocus/PRWEB) April 18, 2011
Computer Generated Solutions, Inc. (CGS) has been named to the prestigious 2011 Top 20 Training Outsourcing Companies List. A recognized industry authority and information portal, TrainingIndustry.com selects the leading global training and learning services companies for their high quality services and comprehensive capabilities. The annual Top 20 list is intended to help buy-side learning and procurement organizations searching for the right training outsourcing partner.
According to Doug Harward, Chief Executive Officer of TrainingIndustry.com, "Our Top 20 Training Outsourcing companies stand out because of their capabilities, expertise and sustained performance as industry leaders. Any corporate learning leader looking for a partner to improve the effectiveness of their organization can safely move forward with these great organizations."
"This year's Top 20 companies have demonstrated their ability to create innovative solutions for their clients, spanning the spectrum of business process requirements of the learning organization," added Ken Taylor, Chief Operating Officer of Training Industry, Inc.
All Top 20 companies have demonstrated expertise and experience in managing major business process outsourcing (BPO) engagements as well as creating a significant impact on the industry. Selection criteria for the 2011 Top 20 Training Outsourcing Companies List included industry visibility and innovation, capability to deliver multiple types of training services, company size and growth potential, strength of clients, and geographic reach.
"We are excited to receive this independent industry recognition for the 4th consecutive year," said Michael Marrache, Senior Vice President of Learning & Training at CGS. "Improving employee skills and performance through effective training is essential to achieving sustainable enterprise success. We are happy that our partners and clients are recognizing the value and innovation of our blended approach to learning."
The complete 2011 Top 20 Training Outsourcing Companies list can be viewed at http://www.trainingindustry.com/training-outsourcing/top-companies-listings/2011/2011-top-20-training-outsourcing-companies.aspx.
About TrainingIndustry.com
TrainingIndustry.com is the world's leading portal for searching and accessing information about the training industry. TrainingIndustry.com spotlights the latest news, articles, case studies, and best practices within the training industry to help dedicated business and training professionals get the information, insight, and tools needed to more effectively manage the business of learning. The TrainingIndustry.com Top 20 list is based on extensive research, interactions with companies around the world, and thorough analysis of the capabilities, experience, and expertise of hundreds of learning organizations. For more information please visit http://www.trainingindustry.com.
About CGS
For more than twenty-seven years, CGS has enabled global enterprises, regional companies and government agencies to drive breakthrough performance through technology. Headquartered in New York City, CGS employs over 3,000 professionals in 20 offices in North America, Europe and Asia. With global delivery capabilities, expertise across leading platforms and deep experience in multiple industries, CGS has become the IT partner of choice for thousands of organizations worldwide. CGS delivers a wide array of proprietary and third-party business applications, technology and business services, and business process outsourcing solutions, including customer care, technical support and corporate learning & training. For more information please visit http://www.cgsinc.com.
# # #