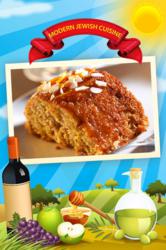 London, United Kingdom (PRWEB) April 15, 2011
The application showcases a rich collection of Traditional and Contemporary Jewish Cuisine, which is guaranteed to enliven weekday meals and festival celebrations. Recipes range from Classics including Chopped Liver, Chicken Soup and Roast Chicken to Modern dishes with a twist such as Fruit Sushi.
A special feature of the application is the collection of Passover/Pesach recipes, including a tempting selection of desserts, cakes and biscuits as well as inspiring ideas for mealtimes.

The application has a number of unique features to enhance your experience:
Eye catching, intuitive and beautifully crafted design
All the recipes are simple to follow and they all have no more than 5 steps.
Supports fast app switching for iOS 4 devices
Optimised for Retina displays
Full screen gallery of recipes
Flick through recipes and pinch to zoom in for more detail
Rotate to see recipes in landscape
All recipes are displayed in both metric and US Imperial measures
Wireless printing for recipes directly from your device
You can print each recipe as a stunning PDF
Share recipes with your family and friends via email
Once installed, no Internet connection required to view recipes
REQUIREMENTS:
Compatible with iPhone 3G, iPhone 3GS, iPhone 4, iPad, iPod touch (2nd generation), iPod touch (3rd generation), or iPod touch (4th generation). Requires iOS 3.1.3 or later
# # #