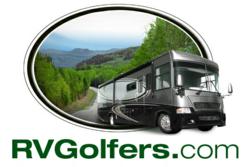 For many golf courses, this is an easy way to convert unused parking or storage space into extra income.
Phoenix, AZ (PRWEB) April 20, 2011
An innovative new internet start-up, RVGolfers.com, has come up with a clever way for cash-strapped golf courses to boost revenues at virtually no out-of-pocket cost. Taking a page from the casino gaming industry, the company has announced plans to build a nationwide database of golf clubs and resorts willing to offer free overnight parking to owners of self-contained motorhomes in order to attract this high-end clientele to their facility.
"For many public and municipal courses, this is an easy way to convert available parking or storage space into extra income, especially during weekdays when business is slower," said Ed McKnew, president of RVGolfers.com. "Motorhome owners tend to be an upscale group to begin with, and many are avid golfers who would love to have the chance to play golf just a few steps from their front door. This is an entirely untapped market with genuine upside potential for public and semipublic courses willing to give it a try."
The concept of inviting vacationing RVers to golfing venues has been around for years. Today, there are some 75 golf courses operating nationwide with attached RV campgrounds, a number sure to grow as more and more RV retirees hit the roads in coming years. "Like casinos, golf courses are popular destinations for RVers," said McKnew. "Providing a free place to park makes it easy and convenient for them to take advantage of all the amenities a club has to offer."
While the program is expected to appeal to a cross section of public and municipal courses, the company's Membership Director, Shari Collins, is quick to point out that not all facilities have the space for accommodating one or two 40' motorhomes. "To participate as a host, a club or resort must have a relatively open parking area—paved or unpaved—with easy access, level ground, and no overhead obstructions. Privacy isn't so important, but access is."
There is no cost for any golf course or resort to join in the RVGolfers.com program. "They can sign up online, give it a try, and see how it works for them," said Collins. "Because most courses are already busy on weekends and holidays, hosts are free to limit their invitations to weekdays or off-season dates as they see fit."
"It's important to note," said company president McKnew, "that reservations are required before any RVGolfers.com member shows up at a host location. This gives the club complete control over whether to accept a reservation for a particular date or not."
About RVGolfers.com:
A privately held corporation, RVGolfers.com is an internet-based membership club for owners of late model motorhomes. The club's purpose is to provide members with access to an expanding database of public and semiprivate golf clubs offering free overnight parking opportunities.
Contact:
Ed McKnew, President
RVGolfers.com
602-459-2346
rvgolfers(at)gmail(dot)com
http://www.rvgolfers.com
###