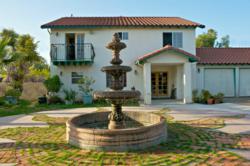 Our business has grown along with the city's storied 100-year history and we are proud to support the Historic Home Tour and the City's Centennial.
Chula Vista, CA (Vocus/PRWEB) April 15, 2011
Celebrating one hundred years of architectural elegance, Chula Vista Centennial Historic Home Tour takes place on April 30, 2011 from 10 a.m. to 4 p.m. The tour begins at the Chula Vista Heritage Museum, 360 3rd Ave., leading a walk through five homes built around the turn of the century. This year's event is sponsored by McMillin Realty, which is providing trolley-style bus rides to carry participants from house to house.
A kick-off party is planned for Friday, April 29 from 5:30 p.m. to 8:30 p.m. at the Spanish-style Maldonado Villa. This fundraising event will feature an art show and sale by Rosarito artist, David Silvah. A Flamenco dance show presented by Cuatro Caminos Arts & Flamenco will entertain guests in the Spanish villa's courtyard. Romesco's Bistro will cater a specially prepared menu of Paella and Tapas, and a 100th birthday cake will be served in honor of Chula Vista's Centennial.
To purchase tickets and for more information about both the party and tour, visit http://www.cvhistorichomes.net. Proceeds from the Centennial Historic Home Tour benefit the Chula Vista Heritage Museum and preservation projects undertaken by The Chula Vista Historic Homeowners group.
"My family and our business have long been champions of Chula Vista's future," said Scott McMillin, president of McMillin Realty. "Our business has grown along with the city's storied 100-year history and we are proud to support the Historic Home Tour and the City's Centennial."
Through a rare opportunity, visitors and locals alike will experience the city's eclectic architecture that reflects both the Mediterranean climate of the Southern California region and architectural influence from Mexico, just 15 miles to the South.
As participants work their way through the self-guided tour, they will also visit gems of the Victorian era and the Spanish Revival movements, while learning about the history of the local area and significance of each home.
Contributing to the tour's ambience are vintage autos, including Model A Fords, on view at each house as well as the museum, costumers in period dress, and a vintage horse and carriage rides.
After the tour is over, participants can enjoy tea and snacks at the historically themed Tea in the Garden event, taking place on the park-like estate of the 1928 Louise Wessels House. There also will be an old-fashioned street fair with cultural entertainment, raffles and fun for the whole family. Gifts and souvenirs will be available from the Chula Vista Garden Club, offering delicious lavender shortbread cookies, candied flowers, and garden items for sale.
ABOUT THE HISTORIC HOMES
The featured homes will be The Augusta Starkey, Dupree-Gould, Joseph Morrison Home, W.C. Stephens and The Maldonado Home.
The Augusta Starkey Home was built in 1896 and is a New England Colonial house that resides on a park-like estate. The two-story, white timber-framed house is reminiscent of many early New England colonial houses, displaying simple exterior ornamentation and a steep roof with traditional side gables.
The Dupree-Gould Home, built in 1921, has a style that portrays American craftsmanship that emerged post-Victorian era. This house replicates the style of its period with its low-pitched roof lines, deep over-hanging eaves and squared columns outlining the front porch.
Another home on the tour is The Joseph Morrison Home, which was built in 1922 and takes after the architectural style pioneered by Frank Lloyd Wright. This Prairie-style home uses low horizontal lines and open interior spaces.
The W.C. Stephens Home is more of a ranch-style house built in 1929. Former Rohr President Burt Raynes lived in this house during the 1950s and the house contains two bomb shelters and 1950s state-of-the-art security systems.
Lastly, The Maldonado Home is another ranch-style house that illustrates how historic buildings can be salvaged and used in modern construction. Built in 1995, this house used the former carriage house that remained on the property and incorporated it into a new home.
ABOUTH THE CENTENNIAL
The City of Chula Vista Centennial is a yearlong, once-in-a-lifetime celebration of events, organized by and for the community to commemorate the history and people of the city and create a lasting legacy. City-wide events sponsored by community businesses, educational groups, and non-profit organizations in partnership with the Centennial's Committee of 100 volunteers will continue through 2011. To learn more about the Centennial and review a calendar of events and projects, visit the official website at http://www.chulavista100.com.
ABOUT THE CITY OF CHULA VISTA
The City of Chula Vista is San Diego County's second largest municipality and will celebrate its Centennial in 2011. With approximately 230,000 residents, the city is located just south of downtown San Diego. Chula Vista's 33,024 acres is diverse - from coastal shoreline in the West to the San Miguel Mountains in the East. Established neighborhoods, contemporary communities, start-up firms, corporations, nationally recognized entertainment venues, the nation's only warm weather Olympic Training Center and a historic downtown all contribute to Chula Vista's attraction for both families and businesses. Combined with affordability and room to expand, Chula Vista is positioned to continue offering multifaceted opportunities to businesses and residents alike.
# # #