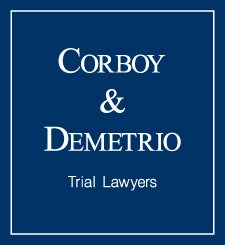 It's a good first step in that it moves toward eliminating soccer goals with a deadly design.
Chicago, Illinois (Vocus/PRWEB) April 15, 2011
A law that would ban the use of newly-made soccer goals in Illinois is a step closer to becoming reality. The House of the Illinois General Assembly on Friday passed what's known as "Zach's Law" named after 6-year-old Zachary Tran, who died when a portable soccer goal tipped over, crushing him.
"It's a good first step in that it moves toward eliminating soccer goals with a deadly design," said Shawn Kasserman, the Corboy & Demetrio lawyer who represented Zachary Tran's parents Jayson and Michelle Tran in a civil lawsuit against the goal's manufacturer, the youth soccer league and the Vernon Hills Park District, (Jayson Tran v. American Playground Corp, et al., Circuit Court of Lake County, Illinois, Court No. 03 L 1069). "Deaths will continue unless and until park districts take the issue of dangerous soccer goals seriously," Kasserman said.
The bill, HB 1130, passed the House by a unanimous vote. Rep. Carol A. Sente (D) of Vernon Hills is sponsoring the bill.
The wrongful death lawsuit filed by the Tran family settled for $3 million and the goal's maker agreed to stop selling goals with that dangerous design, according to Kasserman who is a partner at Corboy & Demetrio.
Zachary Tran would have turned 14 years old this Sunday.
To consult with attorney Kasserman, or any other attorney at our Chicago personal injury law firm, call 312.346.3191. We are available 24 hours a day, 7 days a week.
Further firm information can be found on the Corboy and Demetrio Findlaw Firm Profile.
About Corboy & Demetrio
Corboy & Demetrio is one of the nation's premier law firms. It represents individuals and their families in serious personal injury and wrongful death cases arising out of airplane and railroad disasters, failed products, medical negligence and a host of other catastrophic events. Corboy & Demetrio is renowned for its achievements in the courtroom and for its contributions to the community. The rights and concerns of its clients are at the core of Corboy & Demetrio's practice. That commitment, dedication, compassion and relentless drive has resulted in exceptional service and exceptional results for its clients. The firm has acquired more than $3 billion in settlements and verdicts, of which nearly 600 were in excess of $1 million.
###