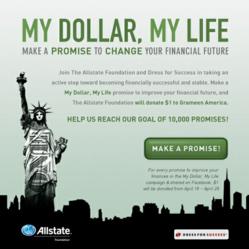 Northbrook, IL (PRWEB) April 20, 2011
There is no better time than now to financially prepare for the future. The Allstate Foundation and Dress for Success want to help you get started.
Little steps to improve your finances can go a long way. And, that is what My Dollar, My Life is all about.
Making simple, realistic promises like paying off debt or passing up one unnecessary item a week, is a start to a path of financial success.
Starting April 18, for every promise made to improve one's financial future on the My Dollar, My Life Facebook page, The Allstate Foundation will donate $1 to help lift women out of poverty. The organization hopes to reach 10,000 promises!
The Allstate Foundation's website (http://www.ClickToEmpower.org) will also feature a real-time promise ticker. The foundation is encouraging everyone to watch the number of promises grow as others join in on the campaign in the next couple of weeks!
Make a promise:
1.Visit the My Dollar, My Life Facebook Page at http://www.facebook.com/clicktoempower.
2.Click on the My Dollar, My Life tab.
3.Select a promise.
4.Share promises on a Facebook wall and encourage others to make a promise as well.
5.Visit http://www.ClickToEmpower.org to track how many promises have been made throughout the campaign.
6.Keep the promise!
Both The Allstate Foundation and Dress for Success support financial empowerment through financial literacy and are dedicated to providing pathways to financial security.
Campaign proceeds, up to $10,000, will go to Grameen America.
About Grameen America
Founded by Nobel Peace Prize recipient, Muhammad Yunus, Grameen America's mission is to provide affordable microloans to financially empower low-income entrepreneurs. Since January 2008, Grameen America has loaned out over $13 million dollars in microloans to 5,000 microentrepreneurs. The organization started in Jackson Heights, Queens, and has since opened locations in Brooklyn, Manhattan, and Omaha, Nebraska. Through its group lending and savings model, borrowers encourage, support and learn from each other as they use entrepreneurship and self-employment to increase their wealth and lift themselves and their families out of poverty. More information about Grameen America is available at http://www.grameenamerica.org.
About The Allstate Foundation
Established in 1952, The Allstate Foundation is an independent, charitable organization made possible by subsidiaries of The Allstate Corporation (NYSE: ALL). Allstate and The Allstate Foundation sponsor community initiatives to promote "safe and vital communities;" "tolerance, inclusion, and diversity;" and "economic empowerment." The Allstate Foundation believes in the financial potential of every individual and in helping America's families achieve their American dream. For additional information, visit http://www.ClickToEmpower.org.
About Dress for Success
Dress for Success is an international not-for-profit organization that promotes the economic independence of disadvantaged women by providing professional attire, a network of support and the career development tools to help women thrive in work and in life. Since starting operations in 1997, Dress for Success has expanded to more than 110 cities in the U.S., Australia, Canada, Ireland, Mexico, the Netherlands, New Zealand, Poland, the UK and the West Indies. To date, Dress for Success has helped more than 550,000 women work towards self-sufficiency. Visit http://www.dressforsuccess.org to learn more.
###