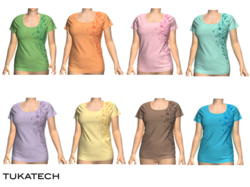 "Tukatech is an integral part of our business, and we will continue to expand and upgrade ourselves, finding new creative ways of using all of their tools and services." - Azfar Hasan, CEO Matrix Sourcing
Los Angeles, CA (PRWEB) April 16, 2011
Tukatech, a leading provider of software for the apparel industry, announces today that Matrix Sourcing, a manufacturer for companies such as Nike, Adidas, and Eddie Bauer, was able to achieve 100% first-submission sample approvals due to their use of TUKA3D. After experiencing huge success in getting their first submitted sample approval with the software, Matrix then expanded with the installation of additional TUKA3D systems.
"We started using TUKA3D three years ago and experienced vast improvement in understanding product fit," said Azfar Hasan, CEO of Matrix Sourcing. "Nike is one of the Brands we work with, and using TUKA3D we have achieved 100% sample approval rate for them three years running."
Matrix is now also using TUKA3D to drape new styles on made-to-measure virtual models for Adidas and several other brands in Europe. The company uses these virtual models as exact replicas of live models to increase efficiencies and speed to market, as they can view and make changes to samples on the spot in sampling rooms.
"Tukatech is an integral part of our business, and we will continue to expand and upgrade ourselves, finding new creative ways of using all of their tools and services," continued Hasan.
In addition to their partnership with Matrix, Tukatech is also experiencing success through their partnership with Texops (previously known as PARTEX), an apparel manufacturer based in El Salvador for retailers Academy and Dick's Sporting Goods. Texops cites a 40% increase in business over the last year, due much in part to the use of TUKA3D.
"TUKA3D provides so much speed and accuracy in our development process, and it allows us to get buyers involved and finalize designs and fit in a much shorter time than before, The built-in Motion Simulator is the key to our success in getting correct fit and the look, without that, no one can really eliminate the physical sample." Texops CEO Juan Zighelboim states.
Additional clients that are reporting successes due to TUKA3D include Ceylon Knit Trends, a manufacturer that produces garments for Nike and Eddie Bauer, Asmara, a buying house that creates samples for customers including Abercrombie & Fitch, and Aval Fashion House, a company that uses TUKA3D for prototypes of high-fashion styles with expensive fabric and detailing for customers including Max Mara, Versace and Adrianna Papell.
"Major brands like these need reliability, speed and constant improvement from their sample development processes," said Ram Sareen, CEO-Founder TUKAgroup. "These success stories are further proof that the right software has the ability to significantly improve businesses in the apparel industry."
About Matrix Sourcing
Matrix Sourcing is a Bangladesh-based apparel buying house with a range of U.S. and European clients including Nike, PVH, BNC, Canterbury, Blue Marlin, BTX as well as offerings in home textiles, hosiery and sports equipment.
About Tukatech
Tukatech is a Los Angeles-based company that provides pattern making, grading and marker making software, 3D apparel prototyping systems and manufacturing equipment. It also provides web-based product development services and PDM/PLM systems, supported by brick and mortar centers strategically located in garment hubs worldwide. With over 8,000 systems installed, and thousands of competitive systems replaced, Tukatech is the fastest growing garment CAD/CAM company in the world. Tukatech has been ranked by Apparel Magazine as the #1 Apparel software company in the world. For more information, visit http://www.tukatech.com.
###