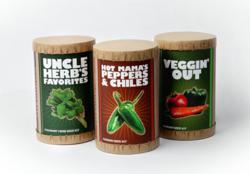 Our first tenet is to give back and empower people instead of taking advantage of someone's hardship during this time.
Scottsdale, AZ (PRWEB) April 19, 2011
Earth Day 2011 is the first birthday of Scottsdale-based Humble Seed, but instead of accepting gifts, the little online seed company that could is giving away tens of thousands of edible-plant seeds to good causes, as well as pruning prices April 22-May 22 to celebrate the beanstalk growth of its Facebook community.
Why? Because first-time entrepreneurs Jim and Kristen Mitchell are among that rare breed of business folk motivated by passion. The owners of Humble Seed fervently believe in the importance of growing your own food, which is why they've partnered with Tempe (Ariz.) Community Action Agency's new garden project at Escalante Park. Plans for the Escalante Community Garden include producing high-quality fruits and vegetables, and teaching the community about sustainable gardening and healthy cooking. A portion of the produce grown will be donated to TCAA's Food Pantry and "Cooking on a Budget" classes, and participants who work two hours a week in the garden also receive a produce share.
Giving back is nothing new for Humble Seed. Humble Seed has contributed to such causes as The Dinner Garden, a Texas-based national non-profit organization that provides seeds, gardening supplies, and gardening advice free of charge to all people in the United States of America. They assist those in need in establishing food security for their families. Their goal is for people to plant home, neighborhood, and container gardens so they can use the vegetables they grow for food and income.
"Our first tenet is to give back and empower people instead of taking advantage of someone's hardship during this time," Kristen says. "We want to help feed needy people. Last year we donated almost as much product as we sold. We're not just saying it; we're walking it."
If Facebook's "Like" button is any indication, the sincere tone of the Mitchells' message strikes a chord with the public. Since August of last year, the number of Humble Seed fans has exploded from 700 to over 8,000. "We're building this huge online gardening community who talk about growing their own food, healthy living and buying locally," says Kristen. "We hope that consumers respond to our giveback philosophy by supporting our products."
Since day one, Humble Seed's mission has been to entice gardening newbie's as well as seasoned growers by offering non-GMO and non-hybrid seeds cradled in amazing re-sealable Mylar packs bundled together in eye-catching packaging. The coming full month of 20 percent savings on humbleseed.com purchases, starting on Earth Day, April 22, is to both thank and further germinate the company's "grounded" Facebook community.
Just in time for Mother's Day, the company has expanded its line of green gifts to include a spicy Mother Nature offering: "Hot Mama's Peppers and Chiles Gift Basket," featuring 10 varieties of chile and pepper seeds, garden tools, gloves, mister and Annie's Goat Hill soap and hand lotion ($79.95 includes shipping, before Earth Day discount).
Humble Seed specializes in premium garden seed kits that are packaged and themed for convenience and ease. In 2011, Humble Seed plans to add wholesale accounts in several key markets.
Humble Seed is dedicated to providing the highest quality heirloom, non-GMO, non-hybrid, and organic seed varieties to conscientious gardeners who choose to start from seed. Hobbyists, nursing homes, survival gardeners, schools and restaurants can buy the kits at http://www.humbleseed.com. The website also features gardening accessories and books, recipes and seed-growing tips. Except for The Producer (bulk-seed kit $129.95), kits costs between $21.95 and $29.95. Enter EDBD2011 at checkout to receive the 20% anniversary discount.
Information and interviews: 877-956-7333; info(at)humbleseed(dot)com; http://www.humbleseed.com; Facebook Humble Seed; Twitter @seedthatfeeds.
# # #