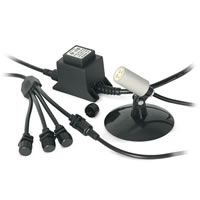 We are continually expanding and looking for products to enhance the koi pond or water garden.
Independence, MO (Vocus/PRWEB) April 19, 2011
KoiPondFever.com announced today that they have added new pond products to their product line, including pond pumps, pond skimmers and new LED pond lighting. "We are continually expanding and looking for products to enhance the koi pond or water garden," states RC Moore, president of KoiPondFever.com. LED pond lighting is becoming more popular with pond and water garden enthusiasts. They last longer and use less electricity than the standard low voltage lights commonly used. The problem with LED lighting has been low light output and color of the light. Atlantic Water Gardens has solved these problems with their new Pro Series Pond Lighting. These lights produce a high power, 3000K, warm color that blends seamlessly with traditional halogen lighting fixtures. Atlantic's new faux rock lids for their skimmers are more realistic and come in different colors to blend in with existing rocks from the region. Atlantic's new Oasis Series Skimmer is a compact skimmer with the sturdy construction of their professional line of pond skimmers. KoiPondFever.com is now carrying the Atlantic Tidal Wave and Tidal Wave 2 pond pumps. These are professional grade efficient pumps that will fit almost any need in a pond pump or waterfall pump.
Pondmaster has come out with a new ProLine Skimmer Pump with HY-DRIVE Technology. These new pumps are very efficient, durable pumps that are compact in size to fit in virtually any skimmer. This has always been a challenge to install a pump in a small pond skimmer with plumbing and still get the water flow needed. Even harder is putting 2 pumps in the same skimmer. The 5,100 GPH and 6,600 GPH models have a foot print of only 14.5"H x 7.25"L x 6.5"W. Smaller models, including the 1,400 GPH and 2,550 GPH measure 13.5"H x 5.75"L x 6.5"W. The rigid pre-filter can be removed for even more room where space is limited.
Other new products added include Freedom Ponds Islandscapes. These are floating islands that can be planted with grasses, shrubs, and aquatic plants that add to the beauty of the pond while giving koi and other fish cover from predators. Plant roots and microbes consume excess nutrient sources that cause algae bloom, resulting in cleaner, clearer ponds. For predator control KoiPondFever.com has added the ScareCrow by Contech. This is a motion activated sprinkler that can be connected to a garden hose to scare away raccoons, stray cats, deer, and the dreaded blue heron. A 9 volt battery will operate this unit up to 6 months for 24/7 protection against predators. This is one predator control that actually works without detracting from the beauty of the water garden.
For more information visit KoiPondFever.com.
# # #