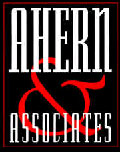 Brian has been a key member of our organization for many years and we are fortunate to have his dedication and competence which has served as a platform for the firm's growth
Phoenix, AZ (PRWEB) April 18, 2011
Trucking and logistics acquisition firm, Ahern and Associates, Ltd. has assigned a new second in charge in the promotion of Brian Haley to Vice President and General Manager of the company.
A lifetime consultant, Haley began his storied career with Ahern and Associates in 1994 as a sales associate and was quickly moved up to Senior Analyst after demonstrating the ability to have a marked impact on the firm's growth. Haley continued his rise within the company and in 2007 was promoted to VP of Sales and Manager of Ahern's front office.
Haley has played an instrumental role within the company during his seventeen years of service which has led to his recent promotion to Vice President and General Manager of the firm. Haley's day to day duties include management of office personnel, training sales people, and performing the initial financial analysis to help determine if a potential seller meets the acquisition standards of the buyers the firm represents.
Haley accompanies the base of tenured employees at the firm who have enjoyed a combined 60 years of service to the company. Haley commented, "Ahern and Associates has provided me with a lot of opportunity for advancement over the years and I really appreciate working within an environment predicated on integrity and treating people fairly—I look forward to serving the company for several years to come."
Andy Ahern, CEO of Ahern and Associates, also commented, "Brian has been a key member of our organization for many years and we are fortunate to have his dedication and competence which has served as a platform for the firm's growth."
About Ahern & Associates, Ltd.:
Ahern and Associates is North America's leading trucking and transportation management consulting firm. The skilled consultants at Ahern and Associates specialize in mergers and acquisitions of trucking and logistics companies as well as the restructuring and evaluation of existing carriers that seek to increase operating efficiency and improve profitability. Since 1987, Ahern and Associates has aided hundreds of buyers in the acquisition of trucking and logistics companies throughout the U.S. and Canada as well as assisting many transportation and logistics companies in reducing their overall operating costs and increasing their profitability. For more information, please call 602-242-1030 or visit http://www.Ahern-Ltd.com
Business contact:
A.W. Ahern
602-242-1030
Media contact:
Jason W. Jantzen
Phoenix Marketing Associates
http://www.PhoenixMarketingAssociates.com
602-282-0202
# # #