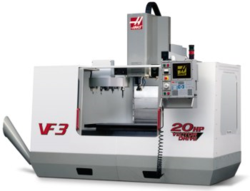 Speed & Quality are everything and the addition of this Machining Center will compress our schedules to less than one week
Baltimore, MD (Vocus/PRWEB) April 18, 2011
MARLIN STEEL WIRE PRODUCTS announces the purchase of a brand new HAAS 3VF Machining Center for milling. Made in the USA, this CNC mill will enable Marlin Steel Wire to quickly make parts that are 40" x 20" x 25" (1016mmx 508mm x 635mm) or smaller. Improving speed to market for machined components of robots is critical so that MARLIN STEEL can compress the ship dates to one week or less consistently.
Drew Greenblatt, Marlin Steel President, stated, "By delivering parts faster, we keep our promises of super-fast shipments. Plus, the quality will be spot-on since the mill has positioning tolerances of +/-0.0002" (0.005mm) and repeatability tolerances of +/-0.0001" (0.003mm)."
Greenblatt continued that, "Marlin Steel invested in a new option, the Intuitive Probing System that enables precise part setting, tool setting and inspection. This will be done automatically so that the speed to cutting is accelerated."
One of the mechanical engineers spearheading the integration and operation of the new machining center, Kash Alur, declared, "the automatic 40-tool changer will improve the speed of the machine since our tooling makers and operators will not be slowed down by changing blades on the spindle. It will take 3.6 seconds from 'chip to chip.' This kind of automatic flow will supercharge our delivery dates and please clients."
The co-leader on the swift launch of the Mill, Tony Witt (one of Marlin Wire's mechanical engineers), marveled at the quality of the parts that will be created off the mill by stating, "each of our designs will be downloaded directly into the machine so that we can quickly have perfect parts being created with no chance of typos. What the client approves will be created."
Another of Marlin Steel's manufacturing engineers, Chris Elwood, stated, "These are exciting times for Marlin Steel. We expanded our manufacturing floor space by 75% this month to keep up with surging orders for custom wire baskets, wire forms and sheet metal fabrication. Now, we are bringing in this top-of-the-line mill to improve speed. We are poised for more growth because we are satisfying the client's need for speed and impeccable quality. "
Elwood continued that HAAS thought of everything: they even have a programmable coolant nozzle so the operator does not have to be stationed at the mill, cooling the part and babysitting it. This will make sure it can run more hours, so we can ship faster."
The mill is fabricated with a heavy-duty sheet metal enclosure so the parts will be made on a stiff frame, insuring top quality. The speed of the machine is fast with a spindle that runs at 7500 rpm.
Marlin Steel Wire Products exports to 35 countries and makes everything in the USA. Manufacturing custom-engineered wire baskets, complex wire forms and precision sheet metal fabrications for the pharmaceutical, medical, automotive and industrial clients, Marlin distinguishes itself with fast delivery, precise engineering, and reproducible quality. Thirty percent of Marlin Steel's employees are either mechanical engineers or designers.
###