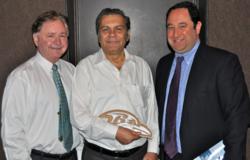 You must find your Blue Ocean
Baltimore, MD (Vocus/PRWEB) April 19, 2011
Dr. Eli Goldratt, author of one of the most widely admired "handbooks" on manufacturing efficiency, was the honored speaker at a special meeting of the Regional Manufacturing Institute (RMI) in Baltimore, MD. More than 300 people attended his speech on April 14, 2011 in Baltimore, MD.
Drew Greenblatt, Chairman of the Board of the RMI and President of Marlin Steel Wire Products welcomed Dr. Goldratt to speak on the "Theory of Constraints." A visionary manufacturing- thought leader on how to resolve choke points in production so factories can thrive, he has written the seminal book, "The Goal", which has become the bible for any factory in the USA, having sold more than 3,000,000 copies.
Drew Greenblatt related to the audience that he embraces Dr. Eli Goldratt's teachings. In fact, his books are required reading for Marlin Steel's leaders and all associates being groomed for leadership positions. Greenblatt stated, "Dr. Goldratt's teachings are the foundation for our success and will help US manufacturing strengthen by compressing the time it takes to ship and by improving the quality at the same time. Quality and Quick shipping are driving our four years of straight revenue growth and steady profitability improvement. We attribute a lot of the change in our fortunes to Dr. Goldratt's philosophy."
Dr. Mike Galiazzo, President of the RMI, said, "I have been in contact with thousands of manufacturers in my 21 years at RMI. I know that many of the most successful operations follow Eli's principles. RMI will work with Eli to bring to our industry these principles and practices that help Maryland manufacturers to be more globally competitive"
Some of the pearls which Dr. Eli Goldratt shared with the overflow crowd were:

People don't resist change on instinct - they judge the change first and then resist.
Manufacturers should create Blue Oceans by not working toward a providing the cheapest price but working toward creating maximum ROI for the client.
Current culture: suppliers/vendors sell on low price however they are not focused on maximizing Return on Investment of their client.
Excess capacity must be used to grow the company, never as an excuse to lay-off people. Loyalty is a two-way street; if the employer shows loyalty to the employees, they will return the favor.
The wise employer identifies the core conflict that is the root of every other problem. That takes courage and is the only way to resolve the problems.
The important metric in project management is not time and deadline, but how much mutual trust exists between managers and producers. With trust, the project is completed to the satisfaction of all.
Success of a company is determined by the harmony of human relationships within it. Trust is at the root of success.
If people are not predictable, there is no basis for society. With trust and predictability, success can follow.
One of Marlin Steel's mechanical engineers, Christopher Elwood, states "When you look around our factory, you will see it is full of Eli Goldratt's techniques. We have shadow boards adjacent to every machine; one- piece flow to eliminate work in process, and operations adjacent to each other so nothing touches the floor. We are an example of the ultra-fast delivery that is possible from Goldratt's ideas."
Another of Marlin Wire's mechanical engineers, Tony Witt, declares that "We had a perfect quality month in February. Not one bad part was shipped in the entire month. I attribute that to Dr. Eli Goldratt's concept of one-piece flow, since the adjacent machine operator inspects the part before executing the next step. Our clients are delighted and reordering because they get consistent quality."
Kash Alur, Marlin Steel's newest mechanical engineer, who spearheaded a project for Raytheon using the Dr. Goldratt principles, described how these techniques drove the best first quarter in Marlin Steel history when he said that "clients are in a rush. They have to get wire forms, custom wire baskets and sheet metal fabrications fast. Eli Goldratt consistently enlightens you on how to eliminate wasteful endeavors so clients have the part faster. Our speed is enabling us to grow quarter after quarter."
In the minds of many in the audience, manufacturing can be improved by the adoption of principles like Dr. Goldratt's and Lean Manufacturing. As Dr. Mike Galiazzo said, "We are fortunate to have the opportunity to hear from an expert like Eli I look forward to helping manufacturing companies change to be more profitable and globally competitive.
###