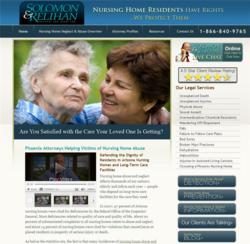 There are many areas that a nursing home or assisted living center staff member must be trained in.
Phoenix, AZ (Vocus/PRWEB) April 19, 2011
Lack of training can be due to many factors including negligence from the nursing home facility in which they work. Even if they are properly trained, volunteers should in no way put residents in a position to be abused or neglected. Unfortunately negligence from volunteer workers does occur. Most volunteer workers are not licensed professionals and therefore it is possible for residents to be put at risk of negligence or abuse from untrained or improperly trained nursing home or assisted living center workers. There are many areas that a nursing home or assisted living center staff member must be trained in.
A Nurse or Physician Must Be Properly Trained In

Anatomy
Physiology
Pharmacology
Cause and Treatment of Disease
Nutrition and Diet
Surgical Skills
Other Patient Care
Most volunteers in nursing homes or assisted living centers are individuals who have had little to no training in either of these areas. This can greatly affect the care a resident receives. This especially pertains to a lack of knowledge of the causes of and treatments for different types of diseases, including the medication necessary to treat certain diseases. A lack of proper knowledge of the medication involved in treating certain ailments is very dangerous. It could potentially cause harm to residents in the care of a nursing home or assisted living center. Misuse of medications is a very dangerous form of negligence as the adverse effects can greatly diminish the individual's quality of life or possibly cause a fatality.
Nursing home and assisted living center staff should also be trained to physically handle patients. This includes such actions as assisting them in and out of beds or chairs or assuring their physical comfort. This is absolutely necessary to ensure that elderly individuals do not suffer some sort of physical injury if they are trying to do things for themselves that they are physically incapable of doing. This type of care is also another aspect that volunteer workers may overlook or neglect. This could put a resident in a position to incur dangerous or fatal physical injuries, which should not happen for any reason.
Types of Medication Provided to Elderly Patients
Antipsychotic Medication
Pain Medication
Post-Surgical Medication
Diabetic Medication
Cardiovascular Medication
Respiratory Medication
All these types of medication can be misused if handled by a worker that is negligent and improperly trained to handle medications. This type of misuse can have drastic effects for nursing home residents.
# # #