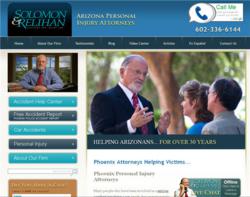 Phoenix, AZ (Vocus/PRWEB) April 19, 2011
Many people who have been bitten by dogs or other animals are unsure what actions to take. The attorneys at Solomon & Relihan have been helping dog bite victims since 1974. They have compiled the following list of steps to take after an attack.
What to Do After an Attack
1) Get medical attention.
The first thing to do after an animal attack is seek immediate medical attention, even if the injuries seem minor. For injuries that may seem more severe, call 911 immediately and follow the dispatcher's instructions until paramedics arrive.
Even if an ambulance is not required, call a doctor or visit an emergency clinic. The victim may have been exposed to rabies. Rabies is more common after a wild animal attack, but should be considered after a dog bite as well. If the victim does not know whether the dog that bit you was immunized, treat any dog bite as having the potential to cause rabies infection. A doctor may give the victim antibiotics and suggest a rabies vaccine series.
If a facial injury is involved, the decisions made immediately after the animal attack can make a huge difference on the amount of treatment that will be needed later. It can be a good idea to request a plastic surgeon to do the careful facial stitches that minimize scarring.
2) Report the attack to the local animal control center.
Tell animal control everything that is known about the dog, so that animal control officers can locate it and take appropriate action:

Owner's name (if applicable)
Color and size of the animal
Where the animal was seen
Whether the victim has seen the animal before
Animal control may often quarantine the animal for 10 days to check for the risk of rabies or other diseases.
The names and contact information for some of the largest Arizona animal control facilities are below:
Maricopa County Maricopa County Animal Care Center
602-506-PETS
West Valley
2500 South 27th Avenue
Phoenix, AZ 85009
East Valley
2630 West 8th Street
Mesa, AZ 85201
Pinal County Animal Care and Control
520-509-3555
888-431-1311
764 S Eleven Mile Corner Rd
Casa Grande, AZ 85294
Pima Animal Care Center
520-243-5900
4000 N. Silverbell Rd.
Tucson, AZ 85745
Coconino Animal Management
928-226-2717
2500 N. Ft. Valley, #1
Flagstaff, AZ 86001
3) Call a lawyer.
If the victim is considering legal action or lawsuit after a dog bite, they should contact an attorney as soon as possible. Legal action can be a good way to hold an animal owner accountable for the pain, lost income, disfigurement, and medical bills caused by their pet's actions.
###