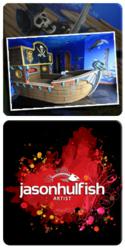 Working with Jason is like visiting Willy Wonka and The Chocolate Factory. You imagine it and he creates it, usually better than you even dreamed possible. With him available I don't know why any child's room isn't a wonderland
Tampa, FL (PRWEB) April 27, 2011
Artist Jason Hulfish, well known for his amazing, handcrafted fantasy children's rooms, unveiled his latest creation, a pirate themed room, to eager fans last week. Complete with floor to ceiling hand painted murals and a pirate ship bed, which Hulfish built from scratch, the room transports its occupants into a imaginary land that only a child could dream up.
The new pirate room joins Hulfish's awe-inspiring collection of fantasy rooms, whose designs are as unique and limitless as the imaginations of the children who sleep and play in them. Fire-breathing dragons, beautiful princesses, pirates, dinosaurs and more. Enter one of his rooms and be swept away into a world of fantasy, majesty and imagination. A world that every child deserves and craves.
In today's world where children are often forced to grow up quicker than ever before, Hulfish's designs allow a child to live in an environment that encourages creativity, imagination and dreams. Jason works with each child to understand what they are wanting him to create and involves them deeply into the process of bringing their imagination to life.
"I like to get the kids involved, and find out, 'Now, are you really into pirates? How much do you like pirates? Let's make sure there's not something else there,'" Hulfish said. "Because then you'll find out the kid also likes sharks, so then you try to incorporate sharks and pirates somehow."
Every space Hulfish designs is one-of-a-kind. He paints by hand, using airbrushing and hand-drawn images, then shading and contouring to bring the pictures to life. Murals go from floor to ceiling and he often incorporates custom furniture, such as a pirate or princess-carriage beds, which he creates and builds himself.
"Jason is relentless," says client Robert Valdez, "his mind doesn't stop working. If you give him an idea, he's always improving the design, thinking of new things to do or how to do something better, right down to the smallest detail."
This relentless creativity, unique craftsmanship and exquisite attention to detail is why Jason's work graces the homes of celebrities, professional athletes and affluent families across the nation. Hulfish's work is redefining children's interior design and setting a new standard for exclusive, luxury children's furnishings.
###