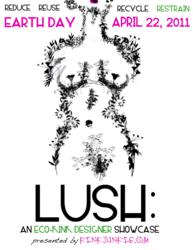 "Why wouldn't you want to help the environment if all it required was a trip to the bedroom?"
Atlanta, GA (PRWEB) April 19, 2011
'Being green' has officially made a beeline straight for your bedroom door. Kink Junkie (kinkjunkie.com), purveyor of luxury eco-erotica, is hosting the first annual Eco-Kink Designer Showcase, aptly named "Lush." On April 22, 2011, the crème de la crème of sustainable lingerie designers from across the globe will honor Earth Day with a visual smorgasbord of eco-friendly kink, everything from the sweet and modest to the naughty and nasty.
Sustainable clothing isn't always viewed as sexy, but Kink Junkie's showcase will not only dispel that myth, it will stand it on its ear. Natural latex, organic cotton, bamboo, corn sucrose, hemp, soy, upcycled fabrics, and even recycled pine trees have been used to develop these pieces. It's certainly not your grandmother's lingerie.
"Our tagline is 'a dirty kind of green' " states Kink Junkie founder and CEO Renika Williams. "Why wouldn't you want to help the environment if all it required was a trip to the bedroom?"
Earth lovers, lingerie lovers, and lovers in general, are invited to visit KinkJunkie.com on Earth Day to watch a virtual showcase of the designers and their product lines, as well as tips and tricks on "green sexuality" and how to "green up" their bedroom routine. "Lush" goes live at 4:22am (EST).
About Kink Junkie:
Kink Junkie was founded in the fall of 2010 to give rise to a community of like-minded kink lovers who wanted to protect the planet and look amazing while they were doing it. The result was Kink Junkie, Inc, an eco-boudoir boutique, specializing in exclusive designer lingerie and accessories, made from organic, sustainable, vegan and recycled materials. In other words, we sell luxury, organic kink.
Kink Junkie caters to all connoisseurs of passion, from the sexually timid and erotically abstinent, to the whip wielding, bondage-loving freak—and every man and woman in between. We are an army of lovers, daring to change the way the world looks at sex. We celebrate a lifestyle of green sexuality that is safe, healthy, honest and fun. We love our planet; we treasure our lives; we respect our bodies; and we are addicted to kink!
For additional information on this topic, or an interview with Renika Williams, please contact Sandy at (646) 306-1951 or email Sandy at pr(at)kinkjunkie(dot)com.
###