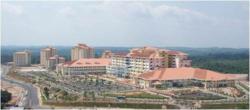 (Vocus/PRWEB) April 18, 2011
INFINITT South East Asia, a subsidiary of INFINITT, signed a contract with Temerloh General Hospital in Malaysia on March 10, 2011, to provide INFINITT PACS, RIS and the full line of Xelis advanced 3D diagnosis support solutions including Colon, Cardiac, Lung, Fusion, 3D, and Dental.
Temerloh General Hospital is a national hospital with more than 500 beds located in the Pahang region of Malaysia. In 2009, the hospital had contracted with Microsoft for the Amalga Hospital Information System (HIS) and the Amalga RIS/PACS to help realize its goal of becoming a model "e-hospital". Microsoft, however, discontinued business in the South East Asian region in 2010, so the hospital needed a new vendor and INFINITT SEA was able to win the contract.
INFINITT SEA contracted with Terengganu General Hospital in 2009, and this paved the way for INFINITT to gain credibility among national hospitals in Malaysia. Also, INFINITT's experience interfacing our solution with Strateq (formerly known as Kompakar), a local HIS vendor, validated the technology and flexibility of the product.
INFINITT expects further market expansion to private as well as national hospitals in Malaysia.
About INFINITT
INFINITT is an enterprise imaging and information management solution and service provider based in Seoul, South Korea, with more than a decade of experience in the PACS industry. INFINITT offers a true single database RIS/PACS/3D solution, designed for unbeatable value, scalability, flexibility, and ease of integration. INFINITT has been expanding its RIS/PACS capabilities with Advanced Visualization and analysis tools for clinical specialties such as Cardiology, Digital Mammography, CT Colonoscopy, Lung CAD and Fusion Imaging. INFINITT's proven PACS software is in more than 2,100 hospitals and institutes in 29 countries worldwide.
For more information, visit the INFINITT website at http://www.infinitt.com
###