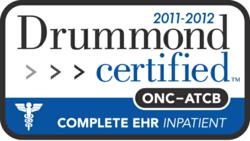 Birmingham, AL (Vocus/PRWEB) April 18, 2011
SourceMedical, a leading provider of ambulatory surgery center (ASC) and specialty hospital management and clinical software solutions, today announced Version 4.1 of the Vision Electronic Health Record (EHR) system has achieved Full Inpatient EHR Certification from the Drummond Group. Tested and certified under the Drummond Group's Electronic Health Records Office of the National Coordinator Authorized Testing and Certification Body (ONC-ATCB) program, SourceMedical's Vision EHR system has been deemed compliant with criteria adopted by the Secretary of Health and Human Services for Meaningful Use. This certification enables SourceMedical clients to pursue for funding under the American Recovery and Reinvestment Act (ARRA).
Vision EHR is fully integrated into the workflow, security, and reporting of the Vision management system. Designed to meet the needs of a surgically focused facility, Vision EHR provides facilities with a single database solution that meets the needs of all departments of a specialty hospital or an ASC. The Vision management system is currently installed in nearly 500 facilities.
"Achieving Full Inpatient Certification benefits both our ASC and specialty hospital clients," said Scott Palmer, president and COO, SourceMedical Surgery Division. "We are partnering with our current inpatient clients and prospects implementing Vision Specialty Hospital to allow them to demonstrate Meaningful Use and qualify for stimulus funding. Our ASC clients will benefit by implementing an EHR from a vendor that is proactively invested in achieving the most challenging certification standard despite the fact that an ASC EHR standard does not yet exist. It provides confirmation to our ASC clients that we are well-prepared to fulfill the Vision EHR Compliance Guarantee commitment we offered in late 2009."
Drummond Group's ONC-ATCB 2011/2012 certification program tests and certifies that EHRs meet the Meaningful Use criteria for either eligible provider or hospital technology. In turn, healthcare providers using the EHR systems of certified vendors are qualified to receive federal stimulus monies available under the HITECH Act upon demonstrating meaningful use of the technology, a key component of the federal government's push to improve clinical care delivery through the adoption and effective use of EHRs by U.S. healthcare providers.

This Vision 4.1 EHR™ module is 2011/2012 compliant and has been certified by an ONC-ATCB in accordance with the applicable certification criteria adopted by the Secretary of Health and Human Services. This certification does not represent an endorsement by the U.S. Department of Health and Human Services or guarantee the receipt of incentive payments. SourceMedical's Vision 4.1 EHR was certified April 14, 2011, Certification ID number 04142011-6342-1 for Clinical Quality Measures.
About SourceMedical
SourceMedical is the largest provider of outpatient information solutions and services for outpatient ambulatory surgery centers, specialty hospitals, and rehabilitation clinics nationwide. With 30 years of real-world experience, more than 5,000 satisfied customers, and the confidence of more than 250 consultants and management companies, SourceMedical offers the broadest range of solutions and enhancements available to the industry. The company's unique end-to-end systems improve operational efficiency and cash flow while enabling healthcare facilities to capture, exchange, and analyze data to deliver a higher standard of patient care. For more information, please visit http://www.sourcemed.net.
###