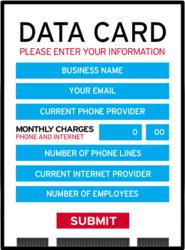 "In the past year alone, small businesses in the tri-state area have saved more than $100 million by switching to Optimum Business for voice and Internet," said Stephanie Anderson, vice president of marketing for commercial services.
Bethpage, NY (PRWEB) April 18, 2011
Cablevision Systems Corp. (NYSE: CVC) announced today the introduction of the Optimum Business Savings Calculator to show small businesses how much they can save on phone and Internet services with Optimum Business. In a nationwide Forrester Research, Inc. study on phone and Internet spending, "Networks And Telecommunications Survey, North America And Europe, Q1 2010," small businesses reported paying, on average, more than twice the average Optimum Business customer*. To encourage the usage of this new online resource, Optimum Business has launched a major television advertising campaign across the Tri-State Area that features small business owners showcasing their savings with Optimum Business. The savings calculator is available at http://www.OptimumBusiness.com/sc.
"In the past year alone, small businesses in the tri-state area have saved more than $100 million by switching to Optimum Business for voice and Internet," said Stephanie Anderson, vice president of marketing for commercial services. "By offering an easy way to calculate savings with Optimum Business, we allow small businesses to see the actual impact on their bottom line and make an informed decision to join the growing number of businesses that rely on us to deliver premium services and value every day. Each customer's story is unique and yet two key points are echoed again and again: savings and predictable pricing. When added to our reliable service, it's a winning combination."
Based on self-reported information, the savings calculator considers a small business' current provider, monthly charges for phone and Internet, number of phone lines, current Internet provider, and number of employees. The calculator can estimate the savings that would be realized if the business switched to Optimum Business. The output includes percentage savings over the next two years on phone and Internet services along with the specific monthly charges for the first year and second year, compared to existing providers' fees. An option is also provided to view annual savings. In addition to the savings on communications services, the calculator also provides the opportunity to determine how much small businesses can save on mission-critical business services from Optimum Business Benefits partners including credit card processing, shipping and document services, and office equipment and supplies.
"It has been more than two years since I switched to Optimum Business and am extremely pleased with how simple they make everything," said Jerry Walsh, owner of Mayday Hardware in Brooklyn, New York. "One major relief is finally having a consistent bill that is easy to understand and always shows the same low price. This is a huge change from my previous provider who would send extremely long, hard to read bills that were never the same and beyond the comprehension for the average business person. I'm a mom and pop small business. I'm also the chief, the cook and the bottle washer, but not a bookkeeper. I appreciate having a tool like the Optimum online Savings Calculator to determine the precise savings that I realized by switching to Optimum Business Services. Any business person can easily do the same thing. With more than $2,000 in savings, I couldn't be happier, but Optimum Business has saved me something more valuable than money. They saved me time."
"We serve pediatrics and adults with home medical equipment needs and have been an Optimum Business customer for more than two years," said Joe McGovern, co-owner of NuTech Healthcare Management in Islandia, New York. "We have been in disbelief about the $10,000 in annual savings we've realized since switching. In tough economic times, having that amount of money to reinvest in the business to grow our abilities to serve patients is incredible."
"As an IT company that relies on a high-speed Internet connection to provide service and support to our clients, any downtime hurts revenues and leads to a bad customer experience," added Shawn Butt, IT Solutions Architect for Zaphyr Technologies in Whippany, New Jersey. "With Optimum Business, not only have we experienced exceptional reliability, compared to our last provider, we've increased our support revenues and we're saving almost $12,000 annually as well. As a result, we've been able to invest in newer technologies that help us deliver even better support services to the small business community we serve."
"We made the switch to Optimum two years ago after realizing that we could save more than $2,000 a year," said Scott Mitchell, owner of Boardwalk Marina based in Stratford, CT. "These savings have helped us make enhancements to our marina to better serve customers. We've also saved time as a result of having one bill for our Internet and voice."
"From the day we opened our doors five years ago, we've been a loyal Optimum Business customer," said Nick Madio, A1 Food Distributor in Bronx, New York. "With Optimum Business, we get a service we can rely on for a great price, almost $6,000 less annually than we would have spent with another provider. We're using the money we saved by choosing Optimum Business to invest more in television advertising, which has given our business a boost. And while the value is important, the great service is what's kept us a happy customer."
More than a dozen small business customers are incorporated into the television commercial. Each small business owner is shown displaying the savings realized with Optimum Business. Featured in the commercial along with NuTech Healthcare Management, Zaphyr Technologies, Mayday Hardware, and Boardwalk Marina are Bronx-based A1 Food Distributors; Long Island-based Checks & Balances Bookkeeping (Locust Valley); Dentist, Dr. Holly Burns DDS (Huntington); No Frills Tire (Elmont); Professional Martial Arts (Northport); Town & Country Tuxedos (Wantagh); New Jersey-based Garofalo & O'Neill (Parsippany); and Oakland Diner (Oakland).
Designed for small and medium or home-based sized business that require high-speed Internet and voice communications, Optimum Business provides bottom line benefits like predictable flat rate pricing and highly reliable voice and data services. The Optimum Business offering includes Optimum Online and Optimum Voice, for $29.95 per month each the first year when combined for new customers. For customers with four to 24 lines, each additional Optimum Voice line is available for $29.95 per line. Optimum Online Boost with Static IP is available for an additional $24.95 per month. Optimum Business customers can add iO TV for their business starting as low as $29.95 per month.
*65% of very small businesses in the US reported paying $100 or more a month for internet access according to Forrester's annual Networks And Telecommunications Survey. Of this same group, 47% pay more than $100 monthly for landline phone service*- prices that are more than twice that of the average Optimum Business customer.
Source: Enterprise And SMB Networks And Telecommunications Survey, North America And Europe, Q1 2010, Forrester Research, Inc., April 2010. (Very Small Business defined as 2-19 employees)
About Cablevision
Cablevision Systems Corporation is one of the nation's leading telecommunications, media and entertainment companies. In addition to delivering its Optimum-branded cable, Internet, and voice offerings throughout the New York area, the company owns and operates cable systems serving homes in four Western states. Cablevision's local media properties include News 12 Networks, MSG Varsity and Newsday Media Group. Cablevision's assets also include Rainbow Media Holdings LLC and its programming and entertainment businesses, AMC, IFC, Sundance Channel, WE tv and IFC Entertainment, as well as Clearview Cinemas. Additional information about Cablevision is available on the Web at http://www.cablevision.com.
###